more news
Faculty Profile: Meet Andrew Halasz, Cinema Arts
Tuesday, November 27, 2012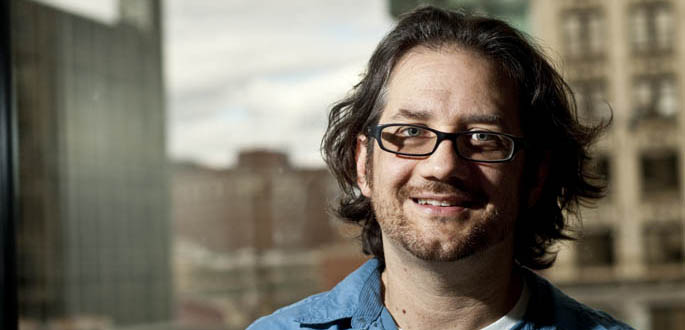 Assistant Professor Andrew Halasz received his M.F.A. in film and digital technology from Chatham College and a B.A. in communications from William Patterson University. He is a filmmaker and media artist originally from New Jersey. His works include films, web art and mixed-media installations.
How would you describe your teaching style?
I treat every student as an artist equal to myself. They know and understand their personal vision uniquely. My goal is to help them refine and clarify that vision. At the same time, I treat everyone in my classes as a student as well. I expect them to work hard and apply the discipline to learn the tools that will help them accomplish their vision.
What makes the cinema arts program unique?
Point Park's cinema arts program is a young program. As a result, it is a very dynamic and exciting environment to spend time in. It has been quite successful in turning out great artists and filmmakers in the relatively short time that it's been around. The industry is evolving at a rapid pace. Every semester the faculty evaluates the courses. In addition, they examine the facilities and equipment to address this evolution.
Why do you like teaching at Point Park?
The two aspects that the entire program dedicates a great deal of its focus to are storytelling and collaboration. I think these are two of the most important tools that a young artist and filmmaker can take with him/her upon leaving a film program. In order to be accepted into the program, students are required to go through the interview process and submit an artistic portfolio of their work. Our students have a high level of dedication to their art. This makes the program a very energizing environment in which to learn and to teach.
How do you incorporate your professional experience into the classes you teach?
Professional experience frames nearly everything I might teach in the classroom. This is the most important thing that we can offer a student, as we help them grow as artists and filmmakers.
What advice do you have for prospective students considering a career in cinema arts?
Passion for your art is the singular most important attribute. This industry is about being committed to creating great work. Anyone interested in a career in this business needs focus, dedication and the desire to work as hard as needed to create amazing work.
What internship and career opportunities are there for cinema majors?
Every year several Hollywood productions roll through the city. We've seen our students working on all of them. These opportunities usually lead to additional work in other productions. There have been students that were also invited to continue on the productions in Hollywood. In addition to the big budget Hollywood films, there are many Pittsburgh production houses where students either do internships or work. These are great opportunities for post-production/digital arts students.