more news
Faculty Profile: Meet Associate Professor Jeremy Braverman, Cinema Arts
Wednesday, January 16, 2013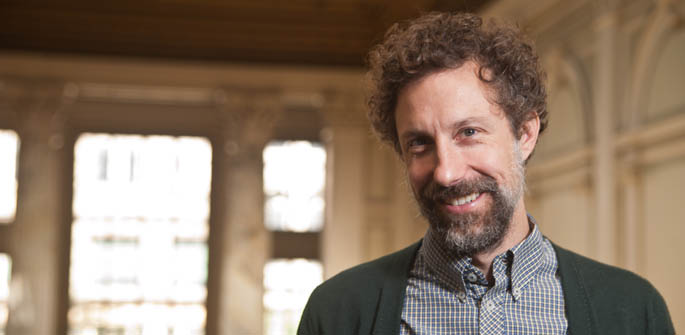 Associate Professor Jeremy Braverman earned his M.F.A in film and video from Columbia College and a B.A. in politics from Cornell College. He has been teaching filmmaking to aspiring artists at the university level since 2000. Outside of his first love of teaching, he is an independent filmmaker and works as a freelance director and assistant director.
How would you describe your teaching style?
I'm an enthusiastic and energetic instructor. I'm passionate about what I teach and use that to engage students and instruct them in the craft of filmmaking.
What courses do you teach?
Production I, II, III and IV
Visual Structure of Cinema
Intermediate Directing
Advanced Directing
What makes the cinema arts program unique?
Cinema students take classes in their major during their freshman year. They also have the opportunity to focus their studies specifically in one area of filmmaking through our system of concentrations, which enables them to become highly proficient in a single discipline and prepares them to step right into a professional situation after graduation. In addition, the focus on collaboration allows students to develop collaborative skills, which are important not only in their careers, but in all aspects of their lives.
What do you like most about teaching at Point Park?
The small class size allows me to develop strong relationships with students throughout their four years in the major, and the wealth of equipment and collaborative nature of the program allow us to create a laboratory for students in which they can grow as artists and people throughout their time here. I take immense pleasure in watching that process.
What advice do you have for prospective students?
Make movies. The more you practice your craft on your own the more you learn and discover. Always be shooting, cutting, experimenting, etc. Don't just look to copy the films you love, experiment with the medium and find your own, original voice.
Watch movies. The more you absorb, the better (not just those films in your comfort zone). Watch experimental films, foreign films and classic films. Expand your horizon and understanding of all of the possibilities of the medium.
Develop a solid work ethic. The film industry is highly competitive and film hours are very long. One needs to love to work, which can be easy in a field this fun.
Be ready to work well with others.
What opportunities are available for cinema students in the City of Pittsburgh?
Pittsburgh is a culturally vibrant city and offers students the opportunity to experience film, art, music, theater, etc. from around the world. It's a dynamic urban environment and offers many students their first taste of the fun, excitement and creative energy of a big city.