more news
Faculty Profile: Meet John Rice, Senior Teaching Artist, Cinema Arts
Thursday, March 21, 2013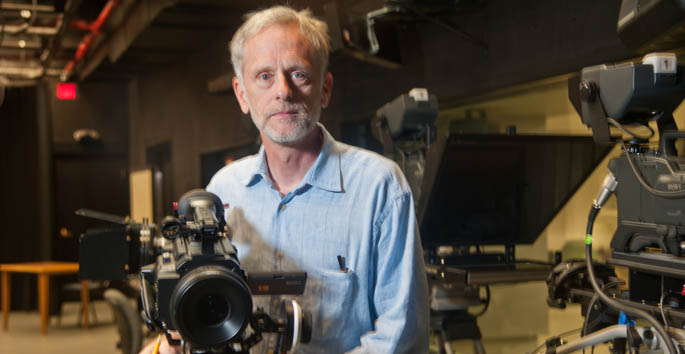 John Rice received his B.A. in film/television production from Penn State University. He began his career in feature films working on George Romero's zombie classic Dawn of the Dead. As director and director of photography, Rice's commercial work has garnered Clio, Addy, Mobius and Art Director's Club awards. His work as a director of photography for features and documentaries has been broadcast nationally on PBS and screened at the Sundance Film Festival and numerous other film festivals around the world.
How would you describe your teaching style?
I would like to think that I provide some fundamental tools or principles on a certain subject, along with some hands-on demonstration, where applicable, and then let the students get their hands dirty. In some courses it is pretty tightly scheduled, and in others there is room to react to specific challenges that students face on individual productions.
What classes do you teach?
Production I, II, III and IV
Documentary Production Workshop
Intermediate and Advanced Cinematography
How do you incorporate your professional experience into the classes you teach?
The production courses, starting in the sophomore year, are fashioned on industry practices. I have worked in just about every production capacity at least a little, and in some, quite a bit. Filmmaking is in many ways a series of problem solving exercises. I can suggest shortcuts that have worked for me, and also advise when it is time to punt.
What do you like most about teaching at Point Park?
The opportunity to watch students grow as filmmakers. As hectic as it is at the end of each semester, it is rewarding to see the results of the students' hard work.
What makes the cinema arts program unique?
I believe it is the emphasis on collaboration and mirroring how things are done in the industry. I am fortunate to teach alongside some talented faculty.
What advice do you have for students considering a career in the industry?
Be open to possibilities other than what you signed up for in college. There are a lot of paths that one can follow. There are numerous talented people looking for work at any given time. Patience is important, as are basic people skills and a little humility.
Anything else you would like to add?
Take the time while you are in college to decide whether you like the process of filmmaking. There's a lot more hard work than glory, so it is important that you get something sustaining from the process. A career is a long time.