more news
Faculty Profile: Michael McKelvey, Private Voice Coordinator and Associate Professor
Thursday, January 22, 2015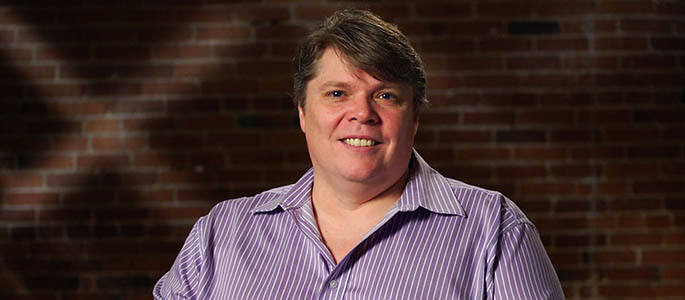 Michael McKelvey, D.M.A., private voice coordinator and associate professor, received his D.M.A. from the University of Texas at Austin, an M.M. at Southern Methodist University and a B.M. from California State University at Northridge.
Describe your teaching style.
My teaching style is a little more casual or personal than a lot of teachers because I work one-on-one with my students. I try to reach my students on a collegial level.
What inspires you the most in the classroom?
The progress of my students inspires me the most. It's great to take a student who is having difficulty in an area of their voice, or understanding a vocal style, and watch them progress as the semester goes along.
Video: Meet Michael McKelvey
---
Related links
Conservatory of Performing Arts
Theatre Program
Auditions and Interviews
Apply Online
What courses do you teach?
Applied Voice
Vocal Styles and Repertoire
Musical Theatre History
Foundations of Musical Theatre Techniques
How do you incorporate your real-world experience into the classes that you teach?
I incorporate my real-world experience into every voice lesson that I teach. I don't know how to separate my teaching from my professional experience because they are one and the same.
What message do you try to convey to your students?
I think the message that every performer has to have is that your career is completely up to you. It's going to be your individual path, so you have to take make it your own.
What makes Point Park's theatre program unique?
Downtown Pittsburgh is a hub for professional theatre. Our students have access to all sorts of wonderful actors, directors, artists and touring companies that come through town. Often times, these industry professionals come to campus to host master classes and workshops with our students. These types of opportunities are essential because it keeps our students in touch with what is going on in the industry on a daily basis.
What advice do you have for a prospective student?
You really have to love this profession and know that it's tough. Throw yourself wholeheartedly into your training at Point Park and take advantage of all of the opportunities that surround you. At Point Park, we have a family atmosphere and we take care of our students.
Is there anything else you would like to add?
My job is to take the budding artist when they come in their first year and get them to the professional level. When I see my students walk past me at graduation, I know they are going to have a professional career and I know I've done my job as a professor.
More About: Downtown Pittsburgh, theatre, master class