more news
Assistant Professor Tim Marquette, M.A., is Head of Private Voice at Point Park University
Wednesday, February 20, 2019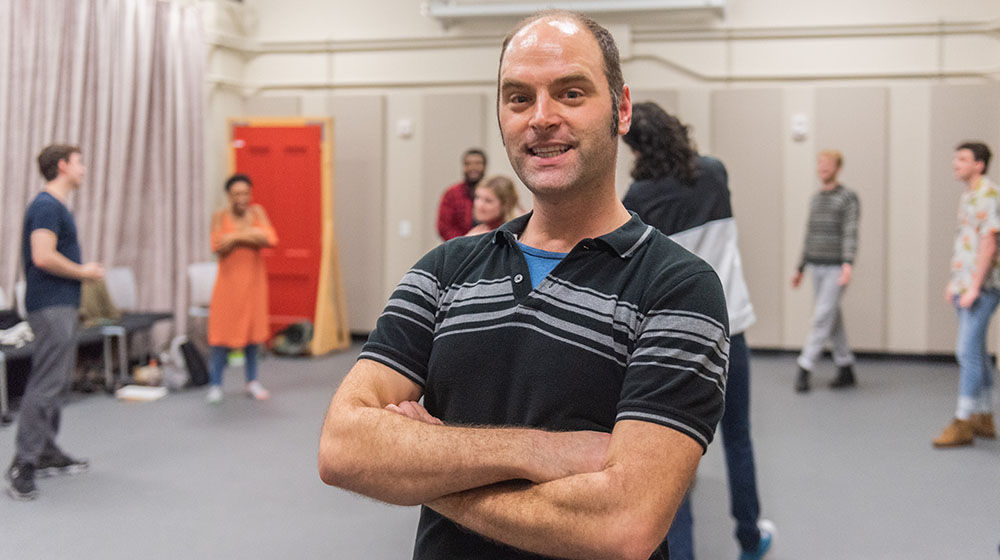 As an actor, singer, stage director, musical director, vocal coach and accompanist, Tim Marquette, M.A., has enjoyed working in the United States and around the world. 

Marquette is proud to be returning to Point Park after serving for seven years as a part-time professor and staff accompanist. 
What inspired your passion for a career in the arts?
I was enthralled with music and performing arts from a young age. I played the clarinet and piano in elementary school and began doing musical theatre in middle school. I was obsessed with listening to musicals in the car with my friends to and from school, and we would go to Borders bookstore on the weekends to buy CDs of Broadway shows!
My passion for listening and absorbing gave me the drive to perform, which led to my college studies and ultimately inspired my career path. What has kept the spark alive for me as I grow and age through this career is my deepened understanding of humanity. This came from personal life events and my travels/jobs all around the world.
The arts truly are a reflection of the human experience. By sharing stories through music, theatre and dance, we transport audiences on a journey and help provide visceral experiences that they can relate to their own lives and broaden their understanding of the world in which we live. 
Tell us about your career path and what brought you to Point Park University.
I moved back to Pittsburgh 11 years ago. Some friends who were teaching voice at Point Park put me in touch with the coordinator of accompanists, and I got hired as a musical theatre accompanist for voice lessons and classes. Through the years I took on some teaching responsibilities, which I loved as it gave me an opportunity to use my experiences as a singer-actor, teacher and director to work with such talented and extraordinary students. Several years ago I left to pursue a master's degree, which led me back to Point Park as a full-time faculty member and I couldn't be happier! 
What courses do you teach?
Private Voice
Musical Theatre Techniques
Singing for Actors
As head of private voice, I am also responsible for managing the logistics of voice lessons for the Conservatory of Performing Arts.
What is your approach to teaching?
My approach to teaching is student-centered and discovery-based. I love empowering students to make choices, engage in professional dialogue and be collaborators in the learning experience. I also firmly believe in making students self-aware and autonomous.
One of my favorite quotes that inspires my teaching philosophy on a regular basis is by Thich Nhat Hanh: "A teacher has to give birth to the teacher inside [their] student."
What do you enjoy most about teaching at Point Park?
The students, of course! There is nothing like working with driven, talented, hard-working students who are open and ready to learn, and to see their growth and development over the course of their four years of training. Then, to learn of their successes once they enter the business always fills me with great joy.
In addition, I have devoted, passionate colleagues who are master teachers and challenge me to be the best I can be.
Lastly, the new Pittsburgh Playhouse and our new study abroad program with the University of West London – for B.F.A. musical theatre majors in the fall semester of their junior year – make this an exciting program to be a part of.
What advice do you have for a prospective student?
Be yourself. Show us who you are in your audition so that we know you are someone we can't wait to work with for the next four years!
Photo by Nick Koehler, photojournalism major
More About: faculty, theatre, study abroad, musical theatre, Pittsburgh Playhouse, Conservatory of Performing Arts, acting