more news
'Fat Beckett' named a top 10 production in Pittsburgh
Wednesday, January 18, 2012

Cody
Fat Beckett, a play by Gab Cody and Rita Reis, 2011 graduates of the Master of Fine Arts in Acting program, was recently named one of the top 10 productions in 2011 by the Pittsburgh Post-Gazette.
The play, directed by Sam Turich and produced by Quantum Theatre, was staged in December at the Old Schoolhouse in Lawrenceville.
According to the Quantum Theatre website, Fat Beckett is "A sly, decidedly female response to the great Samuel Beckett's men who wait. Two heroines are on a whirlwind journey of time and space travel in search of their beloved goat, Biquette."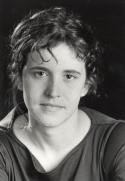 Reis
Cody and Reis' collaboration to create Fat Beckett was first supported by Point Park and then by Bricolage in its "In the Raw" staged reading series.

Two REP productions were named runners-up in the Post-Gazette list: Lost Boy Found in Whole Foods, directed by Point Park's Sheila McKenna, and The Lonesome West, directed by Point Park's Kim Martin and featuring Philip Winters as Coleman and Point Park student Lindsey B. Mayer on set design.
Read the full article from the Post-Gazette.


Media coverage of Fat Beckett:
Pittsburgh Post-Gazette
Review: 2 comedians deftly juggle Beckett

Pittsburgh Tribune-Review
Review: Quantum tweaks a classic with 'Fat Beckett'