more news
Grip/Electric Workshop Exposes Students to Equipment Used on Motion Picture Film Sets
Monday, March 13, 2017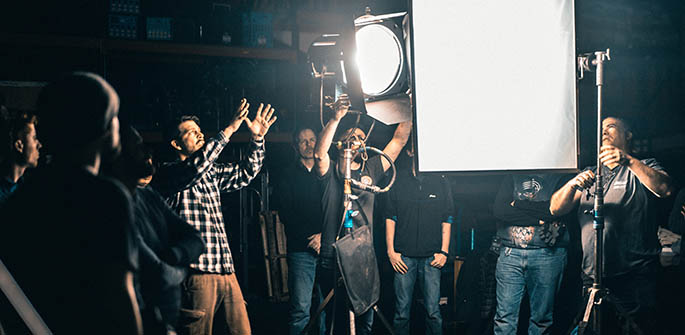 Cinema arts majors in the Grip/Electric Workshop class got a first-hand look at equipment used on commercial and major motion picture film sets at First Light Grip & Lighting Rentals and 31st Street Studios.
Photos: 31st Street Studio Visit
---
Learn More
"My hope for this class is to give students the opportunity to work with extensive grip/electric equipment that they will work with outside of the classroom," said Terry Shirk, part-time professor and the safety coordinator for the cinema arts department.
At First Light Grip & Lighting Rentals, students worked with lighting equipment used on commercial sets - HMI's (Joker 400's, 800's and Arri M18's) - as well as operated a Chapman Dolly.
"We started out with smaller, more manageable gear, learned how to unload a truck properly, built light setups, and designed/filmed our own brief shots to incorporate the gear we learned how to use," said Ian Lewis, a senior cinema production major from Holy Cross High School in Dunmore, Pa.
"I find that learning by doing works the best for me and this opportunity really made that possible," said Ayla Rose Miller, a senior cinema production major from Morris Knolls High School in Rockaway, N.J.
At 31st Street Studios, students checked out and demoed lighting equipment found on major motion picture film sets - Arri M40's, 18K Arrimax's, Kino Flo Celeb's, Quantum's, Mole LED Fresnel's, among others. In addition, they walked through the sets for the television series The Outsiders.
"Most students our age would never get to use this equipment unless they are working on a major shoot," said Justin Illig, a junior cinema production major from Canon-McMillan High School in Canonsburg, Pa. "The experience I'm getting at Point Park is helping me to learn the vital information I will need to prepare me for the world of film."
Shirk added: "This opportunity gave students a head start over someone who may have heard or read about this equipment, but never saw/worked with it. I hope my students gained a greater respect for what goes on behind the scenes of a major motion picture."
Photos by Matt Metrovich, a freshman cinema production major
More About: cinema production, Canon-McMillan High School, cinema arts, Conservatory of Performing Arts