more news
Cinema Production Alumna Creates Video Content for Little League International, One of the World's Largest Youth Sports Organizations
Alumni Profile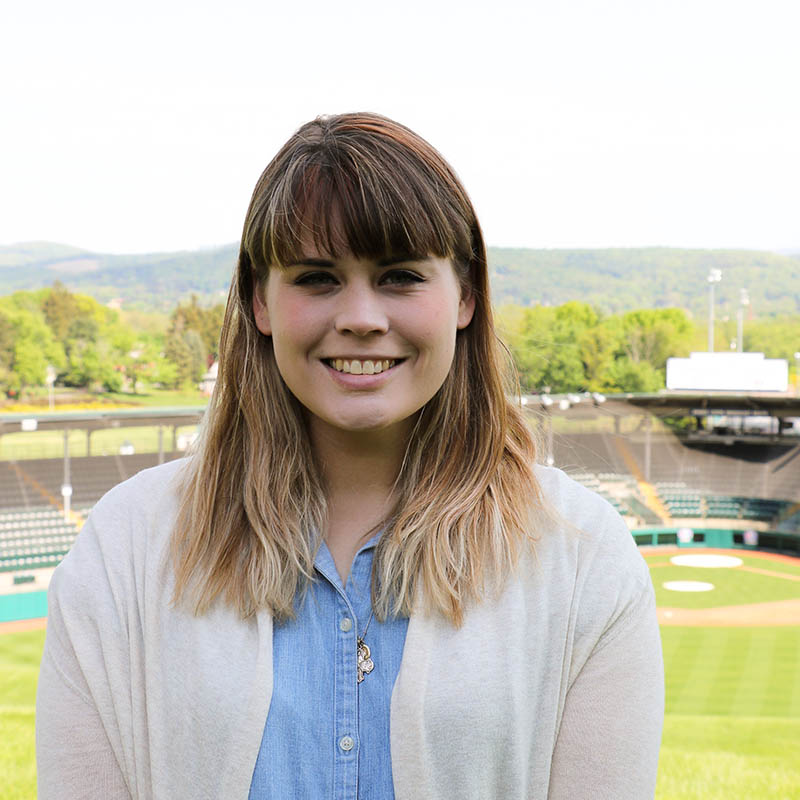 Meet Hannah James
Job Title & Employer

Video Coordinator, Little League International

Major

Cinema Production

Graduation

2016

Hometown

Hughesville, Pa.

High School

Pennsylvania Homeschoolers

Now Living In

Hughesville, Pa.

Hobbies & Interests

Going to the gym, playing the ukulele and banjo, spending time with friends and family
"Point Park was instrumental in preparing me for my career. The cinema arts program allowed me to explore all aspects of filmmaking beginning in my first semester."
Hannah James
What factors led you to pursue a B.A. in cinema production at Point Park University?
I became interested in film editing when I was 13. My mom, who was a theatre major at Point Park, fueled my passion for movies. We watched classic films like Gone with the Wind, Singing in the Rain, West Side Story and Rear Window. It got me thinking about all of the details it takes to create films. 
To me, editing resembles the characteristics of putting a puzzle together. I loved to strategize on how I would put the pieces of film together to create the full picture. I chose Point Park because I believed it would give me the tools needed to work successfully in the film industry. Plus, being able to share in the same college experience as my mom made my decision to attend Point Park all the more rewarding. 
How did your college experience and preparation help you advance in your career?
Point Park was instrumental in preparing me for my career. The cinema arts program allowed me to explore all aspects of filmmaking beginning in my first semester. I attribute many of my editing skills to one of my professors, Cara Friez, M.F.A., who took the time to mentor and advise me on several projects. Additionally, the classes I took at Point Park prepared me for what to expect after graduation. My professors prepared me for the interview process and gave practical advice on what it takes to pursue a job outside of Pittsburgh.
Outside of the classroom, I landed an internship with the Pittsburgh Penguins which turned into a job. I had so many learning opportunities, including the chance be a part of covering two Stanley Cup championships! I also worked with Awesome Films, a video production company in Pittsburgh, as a producer/video editor. I worked on "The Penn State Hockey Story," which was nominated for a Mid-Atlantic Emmy.
You were recently hired as a video coordinator at Little League International. Tell us about that. 
This is a new position for Little League International, and I'm so excited to be a part of their team.
Some of my key responsibilities include creating content for in-game entertainment, social media and producing human interest videos that relate to Little League baseball and softball. I assist with pre-,post-, and on-site production with partnered and Little League-owned platforms. I also film for Little League Softball and the Baseball World Series to produce documentary videos. Plus, I track video productions, create distribution strategies and help manage relationships with internal/external partners.
What are your career goals?
While I was in college I would have said to win an Oscar. However, I've learned that a golden trophy is not what I want for my career. My career goal is to work for an organization that lifts people up and strives to improve the community. If I can use my skills as a video editor in that way, then I know I achieved my goal. 
What advice do you have for prospective students?
Be open to learning all the roles that go into creating a film. It can be intimidating to pick up a camera or learn new software, but one thing I've learned is that employers like candidates who can do it all.
It's also important to introduce yourself to the ushers and security guards anytime you are out filming/working on a shoot. I have found that these are the people who can help you maneuver in a new space to get that perfect shot. 
More About: alumni, cinema arts, Conservatory of Performing Arts, cinema production, success story