more news
High School Students Explore Careers in Technical Theatre and Stage Management
Tuesday, August 6, 2013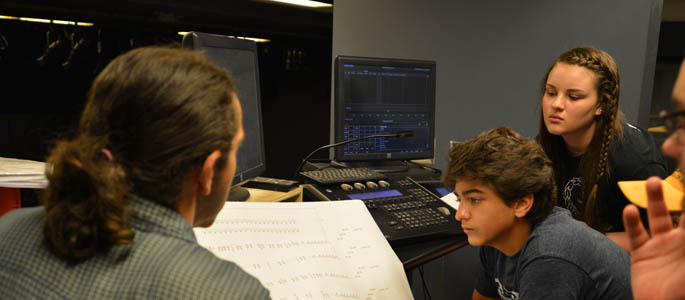 High school students learn about lighting design during the interactive Theater Technical Workshop.
Area high school students gained hands-on experience as they explored careers in technical theatre and stage management at Point Park's first Theater Technical Workshop, held July 23 to Aug. 3 on Point Park's campus.
Workshop Photos
---
Related links
Technical Theatre/Design Program
Stage Management Program
Apply Online Free
During the first week of the interactive workshop, students spent the first half of their days at the Pittsburgh Playhouse - the performing arts center of the Conservatory of Performing Arts - learning about stage craft, stage management, scenic design and sound design.
Costume design and lighting design were the focus of their afternoon sessions, held in the George Rowland White Performance Center.
Students had the opportunity to apply what they learned as they assisted in the installation and run of the Summer Dance Workshop production during week two.
Here's what participants had to say about this year's workshops:
"Attending the workshops was a very educational experience. I really enjoyed learning more about set design." - Zachary Heckler, Upper St. Clair High School.
"I had such a fun time at Point Park. The workshops were amazing and the faculty are so friendly." - Jason Schmitt, Pittsburgh CAPA.
"I chose to attend the theatre tech workshop to help me understand more about theatre tech because I want to be a lighting designer or master electrician. I found the faculty and staff to be very nice, helpful and informative." - Samuel Bashioum, Bentworth High School.
"My dream job is to work in lighting design and I always liked doing tech. I hope I can have the chance to work with the faculty again soon, they are fantastic and I had such a great experience." - Lyla Bartman, Mt. Lebanon High School.
High school students interested in attending workshops or camps in theatre, dance or cinema and digital arts are invited to check out the Community Classes page for registration information.
Photos by Connor Mulvaney, junior photojournalism major
More About: Upper St. Clair High School, Mt. Lebanon High School, high school programs, theatre production, summer dance workshop, Pittsburgh Playhouse, Conservatory of Performing Arts, theatre