more news
High School Students Gain Hands-On Experience at Digital and Traditional Animation Camps
Tuesday, August 16, 2016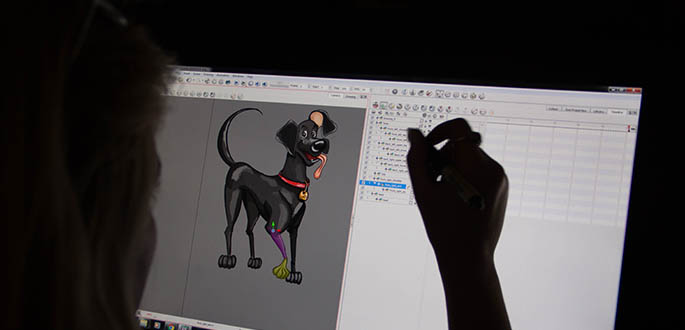 High school students learned the principles of animation at Point Park University's Digital and Traditional Animation Camps July 18-29.
Photos: Animation Camps
"The students were all open to learning new things. They weren't afraid of the technology and brought great imagination to their characters," Associate Professor Andrew Halasz said.
Associate Professor Pahl Hluchan agreed, and added that he's never seen such focus from high school students in a summer camp.
"The students were hard-working and engaged," Hluchan said. "It was impressive how they could learn high-end professional software in such a short time."
During the intensive workshops, students were introduced to character development and movement, learned the basics of 3D computer modeling, as well as the basics of compositing visual effects and live action.
"I want to be a professional animator, so it was cool to learn multiple animation techniques and use cutting-edge programs," Baladev Rice from Chartiers Valley High School said.
High school students interested in attending workshops or camps in theatre, dance or cinema arts are invited to check out the Community Classes page for registration information.
What students are saying about Point Park's Animation Camps

Michael Zappa, Pine-Richland High School:
"Animation camp was a good learning experience. I found the week to be interesting, intriguing, helpful and a good start for those pursuing animation. I really enjoyed learning how to create special effects."

Wayeera Robertson, Home Schooled:
"I chose to attend animation camp because I really like pictures and wanted to learn how to bring them to life. This camp was fun and challenging at the same time."

Ian Thompson, Taylor Allderdice High School:
"It was fun meeting students who share a similar interest in animation. This camp was a lot of hard work, but I enjoyed it."
Photos by Shayna Mendez, a senior photojournalism major
More About: Conservatory of Performing Arts, animation, high school programs, animation and visual effects, Pine-Richland High School, Allderdice High School, Chartiers Valley High School