more news
High School Students Gain Hands-On Experience at Traditional Animation Camp
Friday, August 16, 2013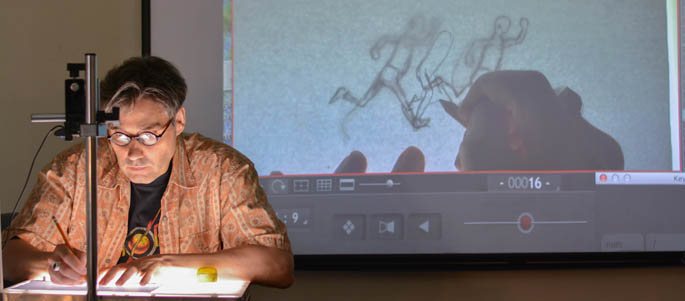 Associate Professor Pahl Hluchan leads an interactive session during the Traditional Animation Camp.
High school students interested in careers in animation had the unique opportunity to create a series of short films and experiments for their professional portfolio at the Traditional Animation Camp, held July 22-26 on Point Park's campus.
Led by Associate Professor Pahl Hluchan, the students learned about the history and principles that make animation possible.
During the interactive sessions, the group of students developed their cartooning skills as they learned classic hand-drawn techniques and the storyboarding process. As part of a production team, they explored stop motion animation to design and bring clay characters to life.
Animation Camp Photos
---
Related links
Conservatory of Performing Arts
Animation and Visual Effects Program
Apply Online Free
Here's what students had to say about this year's camp:
"The traditional animation camp is very thorough. It explains and teaches many techniques I could have never learned myself. The most important thing I learned was how to squash and stretch. It helped me so much in creating smooth animation." - Stuart Wilson, Carlisle High School.
"I chose to attend the animation camp so that I could gain more experience before I go to college for interactive design and game development with a minor in animation. The camp was informative, creative and fun." - Hannah Keller, Lake Center Christian School.
"We learned a lot about the history of animation this week. It's really quite fascinating and new students would definitely benefit from learning it. I had so much fun." - Becky Seamans, Greensburg Central Catholic High School.
"Attending animation camp was the best thing I did this summer. It was so cool working with stop motion and meeting other students with the same interest." - Vicky Maerkle, South Park High School.
High school students interested in attending workshops or camps in theatre, dance or cinema and digital arts are invited to check out the Community Classes page for registration information.
Photos by Connor Mulvaney, junior photojournalism major
More About: animation and visual effects, Conservatory of Performing Arts, traditional animation workshop, animation, high school programs