more news
High School Students Learn the Elements of Storytelling at Screenwriting Camp
Thursday, July 23, 2015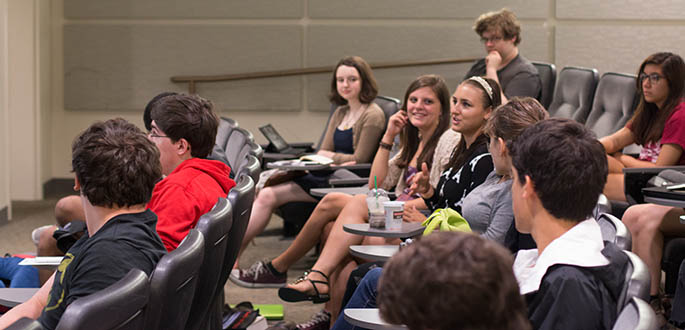 Aspiring screenwriters spent five days on Point Park's campus exploring the elements of storytelling at a Screenwriting Camp for high school students, July 6-10.
Photo Gallery
Led by Elise D'Haene and Molly Rice, adjunct instructors in the cinema arts department, 12 students had the opportunity to watch movies and dissect them, plus write two short scripts.
New this year, students simulated a writer's room to create a script for a web series.
"The class was hired to create a concept pitch, a season story arc and pilot webisode of a web series, which they wrote in groups and read aloud to the class," said Rice. "Every single one of the scripts was superb, some of the strongest I have seen in these sort of classes. We could see a successful web series in each and every one."
Below, students and faculty talk about their experience at this year's Screenwriting Camp.
---
Feedback from Students and Faculty
Dylan Fletcher
Senior, Pittsburgh CAPA
Aspires to work in the screenwriting industry

"This is the third time I've attended the Screenwriting Camp and I've also been to Camp Hollywood twice. I keep coming back because I know these camps get better and better each year. It's fun to be on an urban campus because it gives you a sense of what the college experience is like. This is an amazing camp and I really hope I can come here for college. This is my dream."
Hannah Brem
Senior, Mt. Lebanon High School
Aspires to work in the creative industry

"I had the chance to meet and work with a really creative group of students at screenwriting camp; we had such a positive experience. I was thrilled to find out that this camp was run by two women who work in the industry. They provided a positive learning environment and encouraged us to do our best. It was such a thrill to be at Point Park for this camp."
Jonah Krause
Junior, Pine-Richland High School
Aspires to work in the film industry

"I learned how to work with others and learned the importance of getting opinions on your work. I also learned how to enjoy the experience of writing and it's so much fun. I'm leaving this camp with two scripts to add to my portfolio."
Elise D'Haene
Instructor and adjunct faculty member


"The students in this camp blew me away with their creativity, ability to collaborate, enthusiasm to learn and how insightful and generous they were about one another's work. A mentor or a teacher could not ask for a more thrilling experience. These students prove that meaningful storytelling is at the core of living a fully engaged and exciting life."
Molly Rice
Instructor and adjunct faculty member


"Elise and I had an exceptional group; the kind that you only get every once in a while. They were focused, open, hardworking; everything you'd want to see in students interested in writing. The main thing, though, was the incredible excitement we saw in these writers, and their ability to give and take, and to listen to each other. It was great fun and I can't wait to do it again."
Learn More
High school students interested in attending workshops or camps in cinema arts, dance or theatre are invited to check out the Community Classes page for registration information.
Photos by Victoria A. Mikula, junior mass communication major
More About: cinema arts, Pine-Richland High School, screenwriting camp, high school programs, Mt. Lebanon High School, Pittsburgh CAPA, screenwriting, Conservatory of Performing Arts