more news
Hollywood Director Offers Career Advice to Cinema Arts Class
Tuesday, February 26, 2013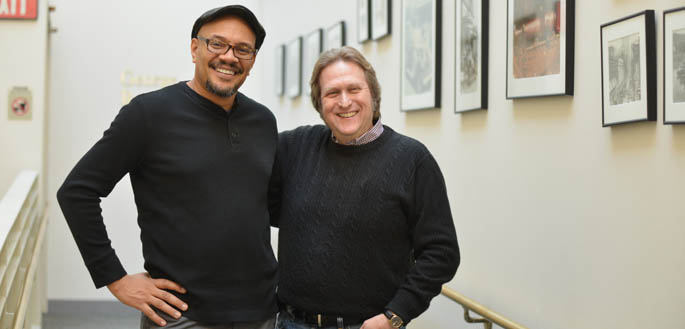 Guest artist Rusty Cundieff and Assistant Professor Steve Cuden.
Cinema arts students in Assistant Professor Steve Cuden's Acting and Directing for Writers class welcomed Hollywood director and actor Rusty Cundieff to Point Park on Feb. 11.
Sitting on stage in the GRW Theatre in the University Center, Cundieff participated in a question-and-answer session offering advice about pursuing a career in the movie and television industry, and critiqued students as they performed a scene.
Junior screenwriting major Bridget Riley was one of the students in attendance.
"It was amazing to perform a scene and get feedback from Rusty Cundieff, who has been in the industry for so many years and has directed actors such as Terrance Howard and Dave Chappelle," Riley remarked.
Cundieff, a Pittsburgh native, shared stories from his school days at Sewickley Academy and the University of Southern California, telling students that his college experience was instrumental in shaping his career.
"You never know who you will meet in college. I met actor and director Keenan Wayans, and comedian and producer Byron Allen at USC," Cundieff said. "Often times the people you meet in college help you out later in life."
Cundieff also highlighted the variety of work he has done in the industry as an actor, appearing in Days of Our Lives, Hollywood Shuffle and School Days with Spike Lee. Early in his career he performed stand-up comedy on a local stage in Pittsburgh, and then made the transition to work behind the scenes as a writer and director. He has directed films, TV series and movies including Tales from the Hood, Clueless, Chappelle's Show and The Bernie Mac Show, among others.
Although Cundieff has become very successful in the industry, he observes that today's students have an advantage because of an emerging digital age.
"The technology you have available as a student compared to when I was in school has drastically changed," said Cundieff. "You're coming out of college with a fresh, new way of thinking that current industry professionals don't have. That's a huge advantage when going up against the existing competition in Hollywood."
Professor Cuden reiterates Cundieff's key points to his students.
"Cundieff's message was that it is possible to have great success in show business and Hollywood even if you don't know anyone simply by taking initiative, by being ambitious, and by taking risks through trying many different avenues. He is a very passionate artist, and it shows in everything he says and does."
Photo Gallery of Rusty Cundieff's Visit