more news
Hollywood Producer Mark Canton Offers Career Insights to Cinema Students
Friday, December 12, 2014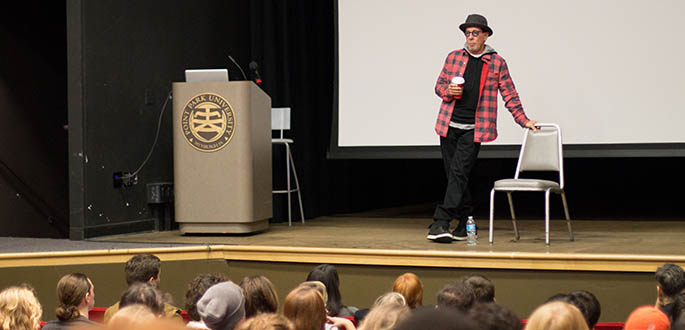 Film producer Mark Canton on stage in the University Center's GRW Theater.
Downtown Pittsburgh has become a magnet for feature film and television production, which creates opportunities for Point Park students to meet real-world industry professionals. During the fall semester, film producer Mark Canton - who was in town working on The Last Witch Hunter - took time out of his busy schedule to meet with cinema arts students on campus.
Photo Gallery
---
Learn More
Cinema Application Process
Student Work
Student Opportunities
Apply Online
"One of our acting majors, Jamie Eddy, works at the Downtown Pittsburgh hotel that Mark was staying at during production, and they developed a rapport," said Laura Boyd, assistant professor in the cinema arts department. "Mark mentioned to her that he would like to lecture/meet with cinema students and Jamie contacted me. I am very grateful he reached out to Point Park to share his industry knowledge."
Standing on stage in the GRW Theater on Nov. 5, Canton told the group of students that he likes to be inspired by the next generation of talent, discussed his career path, and shared advice on what it takes to make it in the industry.
"It takes a lot of patience to be in this business, but it's a great business. You have to love it and be super serious about your career if this is the path you want to take," said Canton. "One of my goals is to make movies that appeal to a wide range of audiences."
He also remarked on the quality of education that a Point Park cinema student receives.
"Point Park has such a great reputation because the cinema program is very specialized in the process of learning your craft," said Canton.
Zak Boyle, a junior majoring in cinema production, attended Canton's lecture and said hearing from him firsthand adds another dimension to the learning experience.
"We have so many great professors who have work experience in the business, but it's so awesome to get to talk with someone like Mark who works on so many notable projects," said Boyle. "Mark's advice will suit me greatly in my career. His talk was encouraging, exciting and inspirational."
Added Boyd, "Jamie regularly wears Point Park sweatshirts - Mark made a special request to receive one - so the cinema department gave him one to thank him for spending time with our students."
Photos by Victoria A. Mikula, sophomore photojournalism major
More About: Conservatory of Performing Arts, cinema arts, cinema production, master class, Downtown Pittsburgh