more news
Hollywood veteran brings 30 years of industry experience
Wednesday, June 22, 2011
Meet Steve Cuden, new assistant professor of screenwriting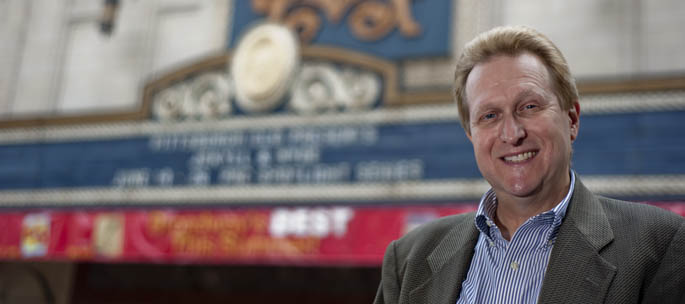 Steve Cuden, new assistant professor of screenwriting and co-creator of Jekyll & Hyde, stands in front of the Benedum Center, which staged a production of the musical in June.
Steve Cuden, a Pittsburgh native who joined the cinema faculty in the fall, is a writer-director-producer with more than 30 years of experience in Hollywood. He has written dozens of teleplays for TV series, such as: X-Men, The Batman, Iron Man, Xiaolin Showdown, Loonatics Unleashed, The Mask, Goof Troop, Bonkers, Quack Pack, Gargoyles, Beetlejuice, Savage Dragon, Pink Panther, RoboCop, Extreme Ghostbusters, Stargate Infinity, Skeleton Warriors, ExoSquad, and many others. Cuden also co-created the Broadway and international stage hit, Jekyll & Hyde, The Musical, writing the show's original book and lyrics with composer, Frank Wildhorn. The Pittsburgh CLO staged a production of the musical from June 14 to 26.
Q: What was your first impression of Point Park University's cinema department?
A: I didn't know what to expect when I arrived on campus for the first time, but I was completely surprised by how beautiful University Center is. As I was shown around the building, I was even more astonished by the state-of-the-art classrooms, Mac labs, and especially the well-stocked and organized equipment cage. I knew instantly that any student attending Point Park would easily have within their reach top-notch, professional motion picture and TV facilities. But most of all, I was deeply impressed by the faculty, all of whom demonstrated a great depth of knowledge and wonderful, energetic passion for teaching film and TV. Lastly, Cinema and Digital Arts' forward-thinking, wide-ranging curriculum left me with the impression that the future of filmmaking is here and now, and it's located in downtown Pittsburgh.
Q: You have lots of industry experience. How do you plan to incorporate that into the courses you'll be teaching?
A: I believe my longtime experience in the entertainment industry enables me to communicate to students the ins and outs and ups and downs of how the business really works. I possess a few battle-tested Hollywood insights that will greatly benefit students as they take that great leap into the swiftly moving, ever-shifting waters of a show business career in L.A., New York, or even if they remain right here in Pittsburgh. I'm delighted to be able to share all of the knowledge and wisdom that I have gained through the years with the students of Point Park.
Q: Why did you transition into teaching?
A: I've long believed that I would not only be good at teaching, but that I would enjoy it - especially in assisting young people as they wind their way toward various careers in the rough and tumble world of show business. After more than 20 years of working in the ever-uncertain world of freelance screenwriting, I became increasingly interested in seeking a new path that had a bit more stability. I made an honest assessment of my skills, and determined that teaching was the most positive, constructive use of my experience and abilities. I also felt a strong need to give back to the entertainment community that has served me so well by helping to guide the next generations to come.
Q: What is your teaching philosophy?
A: There's no way to become good at screenwriting without a lot of practice. The more you write, the better you get. It's that simple - and that difficult. I believe students must first learn the fundamentals of narrative storytelling for the screen. Then they must write a lot while being simultaneously immersed in the history of the art and craft of playwriting and screenwriting. I believe school should be a place for students to experiment without fear of artistic failure. Trial and error, making mistakes, and testing the waters are all important parts of the process.
Q: What has been your biggest professional achievement?
A: Certainly, having created Jekyll & Hyde, The Musical is a big one. But I'm also enormously proud to have written close to 90 animation teleplays for such familiar shows as The Batman, X-Men, Beetlejuice, The Mask, Pink Panther, Extreme Ghostbusters, Xiaolin Showdown, Goof Troop, Iron Man, Loonatics Unleashed, and numerous others that have entertained kids all over the world, and which are likely to continue doing so forever in reruns.
Q: Describe your involvement with the musical Jekyll & Hyde.
A: I came up with the idea of musicalizing Robert Louis Stevenson's famous novella, The Strange Case of Dr. Jekyll and Mr. Hyde, and spent more than eight years writing the show's original book and lyrics alongside Frank Wildhorn, who composed the score. It was enormously fulfilling to see the show run on Broadway for almost four years. The work has now been translated into more than 20 languages and has been produced in thousands of venues throughout the U.S. and the world over, and is still popular with audiences everywhere. The June 2011 production of Jekyll & Hyde at the Benedum Center as staged by the Pittsburgh CLO is a marvelous example of the show's potent, long-lasting success.
Q: What advice do you have for students looking to pursue a career in screenwriting?
A: Write, write, write, and then write some more. Not one or two scripts but many. Writing is like a muscle - the more you write, the stronger and more capable you will become. The entertainment industry recognizes superior writing, so I strongly urge students to be tenacious and disciplined in their work. Study the market. Know the business of the business. Make connections in the industry, which is entirely built on relationships. Be friendly to everyone - from the security guards at the studio gate, to the receptionists, to the secretaries, to the heads of the studio - because you never know who may someday become your ticket to your greatest success. Lastly, have fun. It's too hard of a business to endure unless you truly enjoy what you do.
Hear more from Steve Cuden