more news
Internship Leads to Position with NBC's American Ninja Warrior for M.F.A. Alumna
Meet Bethany Winchester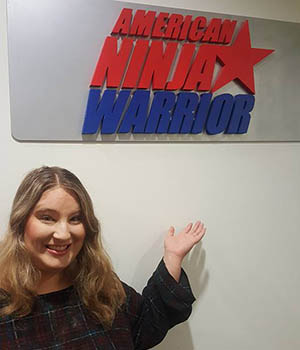 Job title: Casting Associate
Employer: American Ninja Warrior (A. Smith & Co. Productions)
Degree earned at Point Park: M.F.A. in Writing for the Screen and Stage, 2016
Undergraduate degree: B.A. in Television/Video Production and a B.A. in Public Relations and Advertising, SUNY Plattsburgh
Hometown: Albany, N.Y.
High school: Columbia High School
Now living in: Hollywood, Calif.
Hobbies/interests: Writing, video and music editing, longboarding, swimming in the ocean, playing the trumpet, singing and petting cats
As an M.F.A. student, you interned with A. Smith & Co. Productions. Tell us about that experience and how it led to your current position.
My internship was great! The building was located right next to Universal Studios and I got to dip my feet in every department of the production company. I worked on Full Throttle Saloon, Unsung, Container Homes on HGTV, Spartan Race, and many others in the development process. The main department I worked for was development. There, I was able to pitch ideas for new shows, get feedback, hear pitches for new shows and help develop ideas.
What led to my current position at American Ninja Warrior was luck, hard work and placement. My intern desk was right next to the casting department and I started helping them out as well. I would edit Spartan audition tapes for them to present to the network, and after my internship, they hired me!
How did the M.F.A. program advance you in your career?
The M.F.A. program helped open doors for me. I needed an internship and many places, especially in L.A., only accepted interns who could receive college credit. I got my job through my internship, and I wouldn't have gotten my internship without being in the M.F.A. program. Also, since the program is low residency, I was able to continue my education while living anywhere in the world. The program gave me the tools I needed to successfully time manage everything from my course work to my various tasks at the production company in L.A.
What are your key responsibilities as a casting associate?
I am a casting associate, which means I am the first gate that applicants have to pass through to be seen by the producers and casting director. I also help edit submission videos for certain applicants and work on set with the selected ninjas.
What did you enjoy most about the M.F.A. program?
The people. It was a very friendly and welcoming program. Writing can be such a personal and internal process, so you really have to trust the people you are working with when sharing your writing. We all became such a strong unit within the two years of working together, and I think living in the dorms with each other during the residencies really helped that.
Why would you recommend the M.F.A. program to a prospective student?
The M.F.A. program really tries to prepare you for the real world. We talk to a variety of guest speakers who are/were working professionals in our field of interest. We take their workshops, get great feedback, and learn different tools that can enhance our storytelling skills and the business side of this creative field.
What are your career goals?
Of course being in the writing program, I aspire to have a career in writing; whether it be in TV, film or other areas.
My immediate career goal would be to go further with video editing. Editing, in its own way, is a form of storytelling and I really enjoy working on that final stage of a story.
Final thoughts?
Networking is key.
More About: internships, Low-residency program, success story, alumni, graduate education, M.F.A. in Screenwriting and Playwriting