more news
Internship Profile: Meet Animation Major Kaitlyn Colhouer, Animal Inc.
Tuesday, December 3, 2013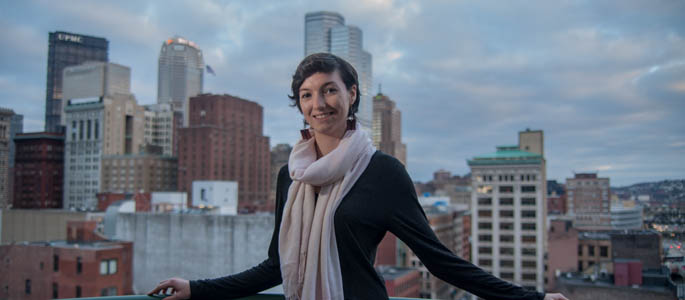 Meet Kaitlyn Colhouer
Internship: Animation intern, Animal Inc.
Major: B.A. in animation and visual effects
Expected graduation: Spring 2015
Hometown: Pittsburgh, Pa.
High School: Keystone Oaks High School
Why did you choose to attend Point Park to study animation?
I chose Point Park University for my major because it was so close to home, and I liked the idea of joining a program which was just starting up, rather than being one out of hundreds of students in a larger animation program.
How is your major helping you to reach your career goals?
After I graduate, I am hoping to go into a career in concept art. As an animation student, I have sharpened my art skills and learned the process of animation from concept to completion. I believe knowing your field inside and out will make you a better artist no matter what your position.
What are your key responsibilities at this internship?
At my internship at Animal Inc., I work hands on with the resident animator in developing concept art for various clients and in-house projects, as well as aiding in the daily function of the company.
How have you applied the skills and training you've received at Point Park to this internship?
I have had many opportunities in the animation program to sharpen my art skills as well as my social skills, and have learned to present my work and myself professionally. I am much more confident in my artistic abilities and in my presentation of ideas and concepts.
Why would you recommend Point Park to a prospective student?
The small class sizes and committed faculty at Point Park are the best things about the school, as well as access to a wide array of programs and equipment. In other schools - especially in the fine and cinema arts majors - students can get lost in the crowd and not receive guidance or gain the confidence they need to be ready for a career in the art world. At Point Park, my experience in the animation program has always been engaging and fun, and has helped me realize where I want to go in my career as an artist.
More About: Conservatory of Performing Arts, cinema arts, internships, animation and visual effects, Pittsburgh, animation