more news
Jay Kirk, Professor of Dance, Specializes in Classical Ballet and Kinesiology
Friday, January 23, 2015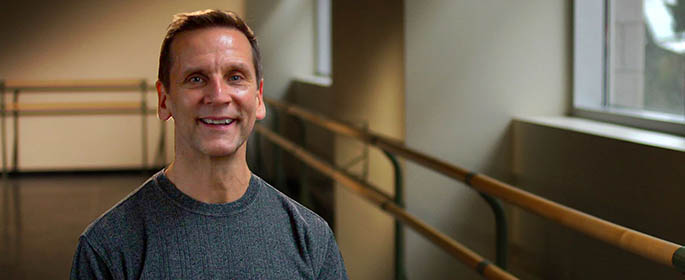 Jay Kirk, professor of dance, received his M.F.A. in dance from the University of Oklahoma and a B.A. in dance from Mercyhurst University. He has danced professionally with Americana Dance Theatre, Dallas and Cincinnati Ballet, Pittsburgh Ballet Theatre and others.

How do you incorporate your real-world experience into the classes you teach?
I instill all of the best that I have learned along the way and I try to delete the worst that I've encountered. I've learned so much from amazing choreographers, great repertoires and intelligent artistic directors who have given me the opportunity and exposure to the classical repertoire of ballet, the contemporary ballets, as well as the repertoire of George Balanchine. I bring all of that information into my classes and encourage my students to believe in themselves.
What courses do you teach?
Kinesiology
Classical Ballet
Pas de Deux
Production, Rehearsal and Performance
Male Technique
Choreography
How have your professional experiences made you a better professor?
I try to practice what I preach. The basis that I try to instill in my students is to try and manage your time as best as you can. Try not to get too hung up in college life so much that you become distracted and you don't work appropriately in class. You are here for an education and that is going to surpass your years of a performer on stage. I take it upon myself to try to be the best example that I can.
What inspires you most in the classroom?
I love coming to Point Park simply because the spaces are amazing. We have some of the best musicians around that come in and play whatever you wish; our musicians inspire me on a daily basis. When the musicians come in and I see my beautiful students ready, dressed, able, energetic, open-minded and ready to work, the class just flies and that inspires me.
Why do you love dance?
I love the movement of dance, I love the quirkiness and I love the trickiness. I can really appreciate the aesthetics. I can just drool over the technical aspects of what some people can do with their body. I always like the inventive person who is non-conforming, gets the work done and gets through the choreography in their own specific way.