more news
Jazz Dance World Congress comes to Point Park in Aug.
Thursday, May 10, 2012
Point Park will welcome up to 800 dancers, teachers and choreographers this summer when the renowned Jazz Dance World Congress arrives in Pittsburgh Aug. 1-5. The 17th Congress will take place on the Point Park campus, with additional classes and performances held at the August Wilson Center for African American Culture and the Byham Theater.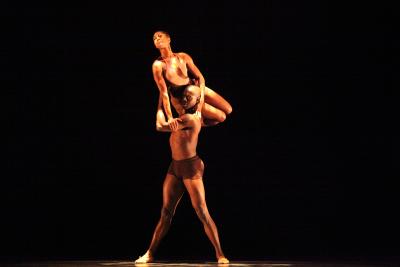 Alumna Ashley Lauren Smith with Devin Buchanan in 'Alloy.'
The event is a first for Point Park and Pittsburgh.
The five-day World Congress celebrates and furthers the legacy of jazz dance and education. Participants for 2012 are arriving from throughout the United States and as many as 20 countries.
Giordano Jazz Dance Chicago founded the Congress and co-presents the 2012 event in partnership with Point Park.
"The Jazz Dance World Congress is a perfect fit for the deep dance program that exists at Point Park," says Nan Giordano, artistic director of Giordano Jazz Dance Chicago.
"Knowing of the very proficient dancers coming to our companies from the University, and after visiting the University's absolutely stunning facilities, I knew the event belonged at Point Park."
Master faculty
World-class faculty will include Joe Tremaine, Homer Bryant, Randy Duncan, Del Dominguez, Autumn Eckman, Laura Flores, Nan Giordano, Liz Imperio, Ray Leeper, Masashi Mashiro, Pattie Obey, Susan Quinn and others.
A special program of Kids Jazz Dancewill be offered for dancers ages 9 -12.
The Congress will also include Jazz Crash! a mega session offering back-to-back combinations and live drummers.
Festival performances
The public is invited to eight performances by American and international professional companies as part of the Congress.
The Jazz Dance World Festival, sponsored by Dance, Dance Spirit and Dance Teacher magazine, will be held at the Byham Theatre, located Downtown. Point Park's Conservatory Dance Company will perform faculty member Kiesha Lalama's piece, Torque, at the Byham Theatre on Aug. 1, the first evening of the Festival performances. Each of the four evenings' events will also include pre-performances by finalists in an international choreography competition.
Registration for Jazz Dance World Congress and Kids Jazz Dance include admission to all eight performances. Public tickets to the performances can be purchased through www.jazzdanceworldcongress.org. Participants can register on the site or call 847-866-6779.
Video: Jazz Dance World Congress 2012