more news
Cinema Grad is an Art Department Coordinator on the Oscar-Nominated Film "Judas and the Black Messiah"
Alumni Profile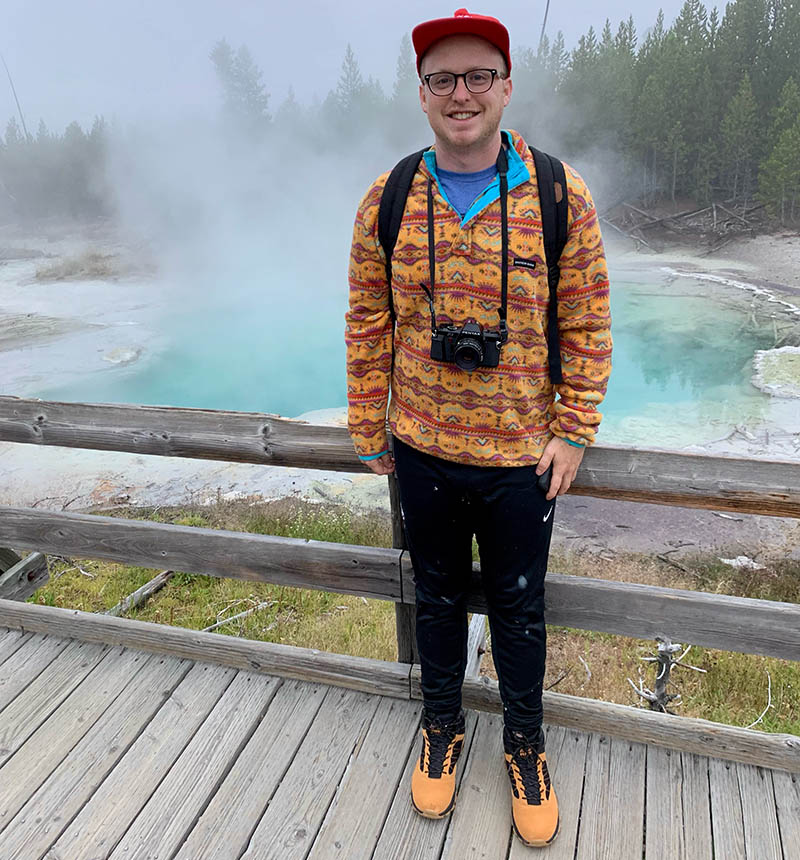 Meet Joel Cash '13
Job Title & Employer

Art Department Coordinator, Film and TV Production, Black Label Media

Major

Cinema Production

College Activities

Rugby, Work Study at the Point Park Print Shop

Hometown

St. Clairsville, Ohio

High School

St. Clairsville High School

Now Living In

Pittsburgh, Pa.

Dream Job

I don't know that I have a particular dream job. I want to keep improving and moving up in my industry. I want to keep working on good films/shows and helping to tell great stories.

Hobbies & Interests

Boating, woodworking, traveling
"For those trying to get into the industry, it may be difficult at first, but once your foot is in the door, make the most of your opportunity. If you put in the work and stay humble, you will succeed in the industry."
Joel Cash '13
Highlight your career path since you graduated from Point Park.
I graduated with a B.A. in cinema production (editing concentration) in 2013, did freelance work for local companies and landed my first film production job in 2015. My very good friend, Zane Cook '13, recommended me to the set decorator on Outsiders Season 1. I became an art department coordinator on Season 2 in 2016.
For those who don't know what an art department coordinator does, it's basically ground zero for the art department. I'm the contact for everything that's happening in the art department office on a film or television show. I manage the office, handle clearances and procurement and make sure things run smoothly. I'm a liaison for the art department between every other department on a production. I recently started traveling the country for work. Since 2019, I've been to Cleveland, Boston and Savannah, Ga., which is where I'm currently working.
Tell us about your work on the Oscar-nominated film Judas and the Black Messiah.
I went to Cleveland in September 2019 to art department coordinate Judas and the Black Messiah — an incredible film that premiered this year in theaters and on HBO Max. It's the true story of Fred Hampton and the Illinois Chapter of the Black Panther Party in the late 1960s. It was recently nominated for six Academy Awards, including Best Picture. Check it out. Being from Ohio, I hadn't spent a great amount of time in Cleveland, but it's a wonderful city with incredible people and great food. In my short career, it's the most enjoyable film experience I've had
What do you enjoy most about your job?
The most enjoyable part of my job is the people. Most people see what's on screen, but don't see what goes into making a film or TV show. There are set designers (architects), production assistants, laborers (carpenters, painters), costumers, graphic designers, accountants, among others. Film crews work 12-14 hour days regularly, and don't get the much needed respect they deserve. Shout out to my Pittsburgh film family and my growing travel crew. Love you all.
In what ways did your Point Park experience prepare you for professional success in the industry?
I never felt like I was in the upper echelon of my major. Not that I was a bad student, but I was involved in other activities, like Rugby. Sometimes that meant my priorities were different than those who were at the top of my class. While I didn't graduate with a 4.0 or honors, the relationships with my classmates and teammates prepared me for post-graduation more than any grade or test ever could.
A lot of my close friends work in the industry, and we contact each other when work is available (Turner Andritz '13 and Kyle Hupman '13). One faculty member who really facilitated what film school is all about was Chris Sepesy. He taught a lot of my elective film classes, but kept learning fun and interesting. He's one teacher that I keep in touch with on a regular basis.
What advice do you have for prospective students?
Enjoy yourself, take your studies seriously, but make sure you enjoy the experience. Make it the best four years of your life. It goes by quickly and you don't get that time back. Be a "YES" person. Reminisce fondly. If you are considering a degree in cinema, just know that work may take you near or far. Be prepared for long hours and sometimes work away from home. The hard work I've put in has been well worth it. Film is forever.
Is there anything else you would like to add?
For those trying to get into the industry, it may be difficult at first, but once your foot is in the door, make the most of your opportunity. If you put in the work and stay humble, you will succeed in the industry. I guarantee it.
More About: cinema arts, cinema production, Conservatory of Performing Arts, faculty