more news
'Mary Poppins' alumni Q&A draws students from across Point Park
Wednesday, February 9, 2011
Questions range from New York City living to Equity cards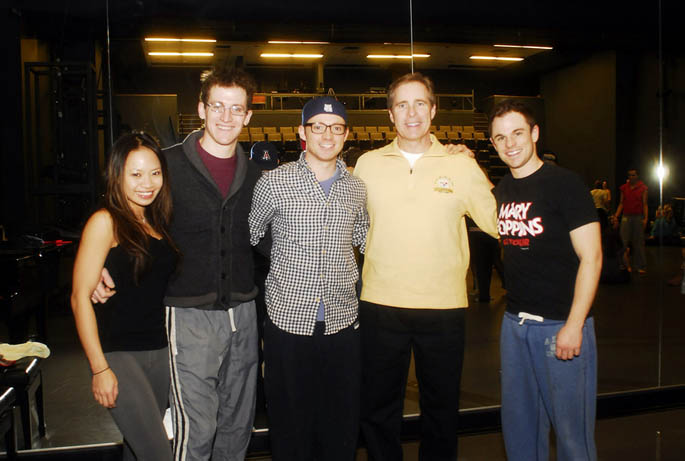 Point Park President Paul Hennigan visits with Point Park alumni who returned to campus to conduct a master class. From left to right: "Mary Poppins" cast member Carol Angeli Dillard and alumni Case Dillard, Eric Hatch and Shua Potter.
Eric Hatch, a 2004 dance grad from Point Park who is touring the country with Disney's Mary Poppins, provided an overview of his career path during a recent question and answer session on campus with other alums from the show.
After a year at Tokyo Disneyland, Hatch performed on Broadway in Legally Blonde, The Pirate Queen and the 2009 revival of West Side Story. He's making his tour debut with Mary Poppins and "loving every minute of it," he told students.
Related links
Feature: Alums with 'Mary Poppins' national tour teach master class
Dance program
Theatre program
Applying to the Conservatory
Request Information
Shua Potter, who graduated in 2004 with a B.F.A. in theatre arts, performed with Pittsburgh Musical Theatre, Quantum Theatre and Pittsburgh Public Theater while living here. He moved to New York City in 2006 and joined Mary Poppins in 2008.
Potter told students to "live in the moment" when dancing in numbers they must do days, weeks, months, even years at a time.
"You can have the same blocking, the same energy but make it different every night by playing off others in the cast," he said. It's important to keep things fresh both for you and the audience, he reminded students.
Although many were from the Conservatory of Performing Arts, students from throughout the University participated in the Q&A.
Many asked questions about moving to New York City, auditioning, taking additional classes and holding second jobs. "Audition for everything you can and don't take rejection personally. It's not about you," said Potter, among other things.
Other students wanted to discuss importance of having an agent and/or an Equity card early.
Being represented might help you skip cattle calls, but it's not necessary to get started, said Dillard. And it's not necessary to rush to get an Equity card. You can work without it, he added.
"Just keep picking up skills."
And how do you keep getting hired once you get a start?
"Be confident. Be on time. Be prepared. Be warmed up. And be nice to every person you meet," said Hatch, points echoed by the other alumni and fellow cast member Debra Cardona, who joined the Q&A.
The questions went on for more than an hour with neither the professionals nor the students seeming to want it to end.
"Any advice for freshmen and new students?" someone asked.
"Just take advantage of everything Point Park has to offer," said Hatch. "You will always look back to your days as a student here."