more news
McKenna named chair of theatre department
Tuesday, July 5, 2011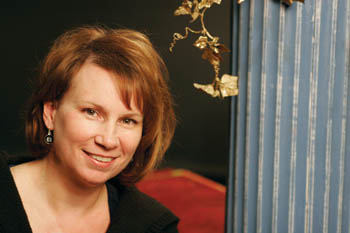 Sheila McKenna was recently named chair of the theatre department in the Conservatory of Performing Arts.
"Our conservatory is populated with incredibly talented young artists, a vibrant, professionally active faculty, and a dedicated staff," McKenna said. "As chair of theatre, I intend to support all of these wonderful people in their artistic, academic and personal goals, and to assist them and the University in achieving national recognition for our outstanding theatre programs."
McKenna, an assistant professor and Point Park alumna, is a versatile director and actress. She has appeared in numerous plays, including King Lear (The Rep), Footfalls (Pittsburgh Irish & Classical Theatre) and Dog Face (Quantum Theatre/Festival D'otono, Madrid). She has also originated roles in plays by Christopher Durang (Mrs. Bob Cratchit's Wild Christmas Binge, City Theatre), Michele Lowe (String of Pearls,Mezzulah, 1946, City Theatre) and Nigel Gearing (Le Gran Meaulnes, Quantum Theatre), among others.
McKenna has directed the world premieres of Tammy Ryan's plays Baby's Blues, The Gift of the Pirate Queen and FBI Girl. McKenna's directing work also includes productions for The Rep (Pig, Anton in Show Business), Quantum Theatre (El Paso Blue) and seven productions for Pittsburgh Irish & Classical Theatre, including The Room, Riders to the Sea and Shadow of the Glen - all of which the Pittsburgh Post-Gazette cited in its annual feature Top Ten Best Theatre. McKenna is also a recipient of the Post-Gazette's Performer of the Year honor.
McKenna said she particularly enjoys directing Point Park's students. For the Conservatory Theatre Company, she has directed Top Girls, Warrior, The Two Gentlemen of Verona and Cloud Nine. For Playhouse Jr., she has directed seven productions, including Aladdin and the Wonderful Lamp and Pinocchio.
McKenna has an M.F.A. in performance pedagogy from the University of Pittsburgh and a B.F.A. in acting from Point Park University.