more news
Meet Garfield Lemonius, assistant professor of dance
Tuesday, November 1, 2011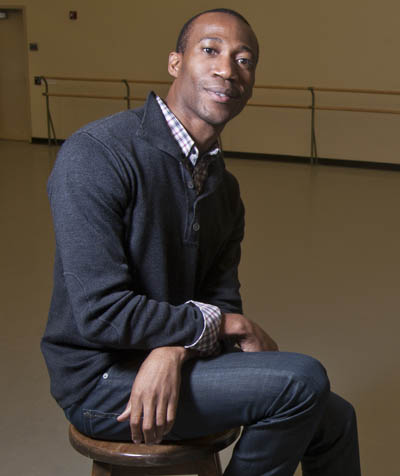 Assistant Professor Garfield Lemonius joined the conservatory staff as a guest artist in 2009 and became a full-time faculty member this fall. Lemonius holds an M.F.A. in dance from Southern Methodist University and a B.F.A. in dance and Bachelor of Education from York University in Toronto.
Lemonius' professional background includes performing as a principal dancer with the Dallas Black Dance Theatre and guest artist at companies across the world. He has been a master teacher at many prestigious schools and summer dance programs, including The Debbie Allen Dance Institute Summer Intensive. Prior to coming to Point Park, Lemonius was on faculty at the nationally acclaimed Booker T. Washington High School for the Performing and Visual Arts in Dallas.
What makes Point Park's dance program unique?
Point Park's dance students receive intense conservatory training within a university setting, the dance spaces are enormous compared to most, the faculty are brilliant teachers in their own form and stylist dance areas, and the calibre of the training in ballet, modern and jazz is comparable to the "top" pre-professional conservatory dance training programs in the country and abroad.
What is your teaching philosophy?
Students first, and the three Rs: rigor, relationships, relevance! Each class is rigorous, challenging the students' notions of how far they go and how much they can achieve. It is important that I also understand each student's background, learning style and who they are as a person, so that I create a safe atmosphere conducive to their learning and where they are comfortable enough to take risks, make mistakes, learn from them and grow. And, of course, the coursework does not exist in a vacuum. It has to be relevant to the "real world."
How do you incorporate your professional experience into the classes you teach?
I incorporate information, anecdotes and survivals tips I've learned from the profession - the touring, the crazy schedules, choreographers, dancers and artistic directors I've worked with - that will help students gain a better understanding of the professional world, the movements they will be exposed to, how to be artists and how to condition their bodies for daily technique classes and rehearsals to ensure they can dance longer and stronger way into their careers.
Bringing segments of repertory movement materials from choreography that I've performed into the studio also challenges the students' skill levels and exposes them to new movement ideas from masterworks as well as cutting-edge contemporary choreographers.
What has been your biggest professional achievement?
Students usually see an amazing dance work and lust after it or want to work with a specific choreographer at some point during their dance careers. For me, this moment was Asadata Dafora's 1932 classic Awassa Astrige/Ostrich. It's brilliant, timeless, intricate and incredibly challenging! It's a solo dance, and I was one of the few male dancers in the U.S. given the opportunity to perform this timeless work on many theatre stages. It was a dream come true. After dancing that work I can say I truly lived.
What advice do you have for prospective students considering a career in dance?
They will get to see the world, meet incredible people and become cultural aficionados. It will be a wonderful experience, and they will love every minute of it and hate it sometimes too. But to persevere, they have to see each opportunity as a learning experience and continue to grow. And don't forget to have fun!
Early in my dance training someone once told me to "practice instant forgiveness." That has never left me. Basically, forgive the screw ups, and move on!