more news
Meet Matt Pelfrey, M.F.A. Low-Residency Program Director and Assistant Professor
Friday, February 12, 2016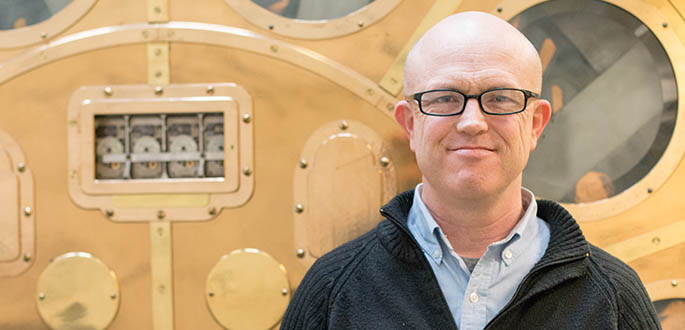 Matt Pelfrey, M.F.A., is a film, theatre and television writer. He worked as a staff writer on the MTV drama Skins and wrote, produced and directed webisodes and content for MTV.com. His screenplay Survivalism was included on the 2011 Blood List, an industry-generated list of the favorite unproduced horror and thriller scripts in Hollywood. His plays have been produced around the country and overseas to critical acclaim.
What inspired your passion for writing for film, theatre and television?
I've always been interested in writing. I loved movies from a very young age. I always had an interest in writing and telling stories. When I was in high school, I took a film class at a local community college. I started playwriting in college and had some early success getting my work produced, and getting the immediate feedback of seeing an audience react to my work spurred me to continue. Eventually, my plays got me interest from Hollywood.
What lessons have you learned in your career?
Writing is a long game. Something you write or send out to a theater years back may come back around. You have to think five-year chunks when planning. And in the end, a small amount of writing every day adds up over a year. If you only write an hour a day, you will end up with a big pile of material. Everyone has the time to write.
What projects are you currently working on?
Right now, my play Pure Shock Value, which premiered a few years ago in San Francisco, Calif., is playing at None Too Fragile Theater in Akron, Ohio. It runs through Feb. 13. Then in April, my stage adaption of John Ball's novel In the Heat of the Night, which has been produced many times around the country, and on National Public Radio, will be produced at the Shattered Globe Theater in Chicago, Ill.
What classes do you teach at Point Park?
Thesis 1: Writing for Screen and Stage
Thesis 2: Re-writing for Screen and Stage
Describe your teaching style.
I'd love to say my teaching style is the pedagogical equivalent of the Steve McQueen chase scene from Bullet, but I'm not sure what that means. So I'll put it this way: I try to find the right balance between lofty and gritty. Meaning, students should have the fire to want to change the world with their work, to want to delve deep into the intangible elements of being human. However, they should also have a firm nuts and bolts grasp of craft and technique, so they have the ability to get what lurks in their hearts and minds onto the page in a way that will impact the audience.
What do you enjoy most about teaching at Point Park?
I love working with students and helping them articulate their vision, so the chance to interact with both young and mature writers is a thrill. On top of that, my colleagues are a great group of incredibly passionate and creative professionals that make teaching here highly enjoyable.
What advice do you have for students?
A career as a writer can be a grueling and brutal slog that often feels like all of nature is aligned against you. Carving out the time in an M.F.A. program to hone your skills and develop your craft is a wonderful way to ready yourself for the endurance test to come.
Photo by Victoria A. Mikula, a junior mass communication major
More About: Conservatory of Performing Arts, M.F.A. in Screenwriting and Playwriting, graduate programs, faculty