more news
M.F.A. Graduates Host Festival of New Work
Friday, April 22, 2016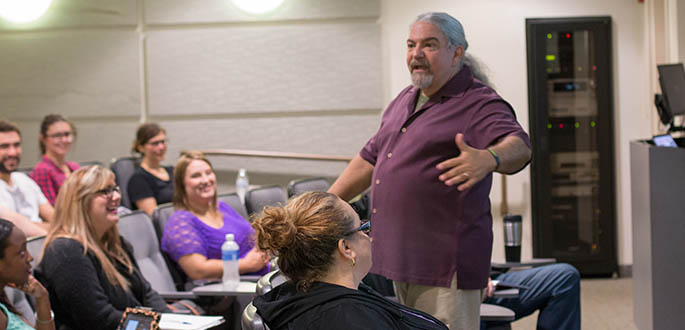 M.F.A. students learn about the video game industry from guest artist Don Marinelli

After nearly two years of intense study and application of the principles of dramatic writing, new graduates of Point Park University's inaugural M.F.A. in writing for the screen and stage program will present a compilation of their plays and screenplays at a Festival of New Work.
"We're excited for the writers graduating from our program," said Matt Pelfrey, M.F.A., director of Point Park's M.F.A. program. "This is a talented and diverse group of voices, and I'm proud to have them be our first graduating class."

From May 17-21 in the University Center's GRW Theatre, Point Park's newest community of writers will share the following staged readings of their work:
Tuesday, May 17
For my Sister, No Good Deed and 13:4-8 by Ashley Smith at 5:30 p.m.
Oreos and Kettle Black by Shirley Felder at 7 p.m.
Snatch by Malena Lloyd at 8:30 p.m.
Wednesday, May 18
Choices by Staci Backauskas at 5:30 p.m.
The Winchesters by Bethany Winchester at 7 p.m.
Miss Galaxy and Legends of the Earth by Matthew Hahn at 8:30 p.m.
Thursday, May 19
Mommy Issues by Robin Fusco at 5:30 p.m.
The Dead End Gang by Brittany Stahl at 7 p.m.
Queen Bess: The Barnstormer by Lorenzo Boone at 8:30 p.m.
Friday, May 20
Until Sunrise by Lucas Esteves at 2 p.m.
Big Teeth by Alan D. Stevens at 3:30 p.m.
Saturday, May 21
Like Family by Edwin Lee Gibson at 12:30 p.m.
TRASH by Adriana Palangio at 2 p.m.
Punk '83 and Life with Maureen by Paul Rodrigues at 3:30 p.m.
Added Pelfrey, "I hope the community will come to the Festival of New Work and show their support for our emerging writers. It's going to be a blast!"
Festival Information
Please check the festival's website for additional information as well as a brief synopsis of the students' work. This event is open to the public and there is no charge to attend. RSVP online to guarantee seating.
More About: student presentations, Conservatory of Performing Arts, M.F.A. in Screenwriting and Playwriting, Low-residency program