more news
Musical theatre alum on tour with 'Grease'
Thursday, April 1, 2010
Christina Sivrich makes a steady climb on Broadway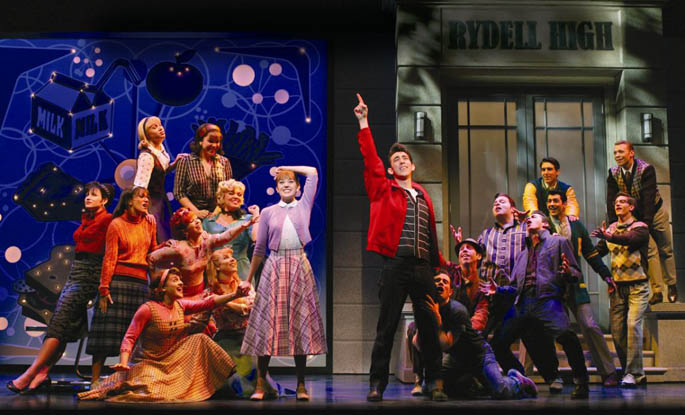 In this production shot from 'Grease,' musical theatre alum Christina Sivrich is on the left foreground, kneeling in the orange plaid jumper and holding hands with lead character 'Sandy.' | Original Broadway Cast. Photo by Joan Marcus
After a chorus call audition and multiple call-backs, Christina Sivrich remembers the feeling of elation after receiving word about her first Broadway show, The Wedding Singer. "I was in the middle of a waitressing shift when I got the call," she says. "It was the best feeling ever - everything you dream of!"
Adding to the thrill was the opportunity to work with Tony Award-winning choreographer Rob Ashford, a Point Park dance alum. "It was amazing working with Rob. He brought out the best in every dancer," says Sivrich, a musical theatre alum. Ashford later received a Tony Award nomination for his work on the production.
Sivrich appeared in The Wedding Singer throughout 2006. Her second Broadway appearance came only a year later, when she landed the roles of Frenchy, Jan and Miss Lynch in the 2007 revival of Grease. She is currently performing the same track in the Equity tour of Grease. Pittsburgh native Kathleen Marshall directed and choreographed the productions.
"Kathleen Marshall was also amazing with cast members. A few times I sat back and just watched how she worked. She had just directed Pajama Game [for which she won a Tony Award], so truly it was an honor to work with her," says Sivrich. "Plus we had the Pittsburgh connection!"
Sivrich says she is fortunate to have worked with Ashford and Marshall at this point in her career.
After graduating from the Conservatory of Performing Arts with a B.F.A., the East McKeesport, Pa. native moved to New York briefly then returned to work in Pittsburgh and West Virginia regional theatre. She also performed with Disney Cruise Line, did a four-month non-union tour of Grease, and moved back to New York to stay. While in The Wedding Singer, Sivrich had the opportunity to appear on The Today Show, the Tony Awards and the Jerry Lewis Telethon.
Today, Sivrich is enjoying traveling the country with the Grease Broadway tour. In early March she returned to Pittsburgh to perform for a week at the Benedum Theatre. Remembering how much she appreciated hearing about how other Point Park alumni built their careers, Sivrich took the time to update the Conservatory on her recent work and offered to talk with students.
Asked about her most memorable performance at the Pittsburgh Playhouse, Sivrich smiles and says playing a lead role in Sunday in the Park with George was "a wonderful experience." The production was challenging, she says, and the fact that it was her last role as a senior made it particularly noteworthy.
What's next? Sivrich says she has upcoming performances for Grease in Toronto, Jacksonville, Fla. and other cities before the tour closes in late May. And "in the works" among other projects is Ever After, based on the 1998 Drew Barrymore film, for which Sivrich has done stage readings and a CD recording to date.
Related links
Point Park's musical theatre program
Conservatory of Performing Arts