more news
Musical theatre freshman looks toward Broadway
Thursday, February 25, 2010
Pittsburgh is good place to prepare for New York, says national award winner Jenny Wine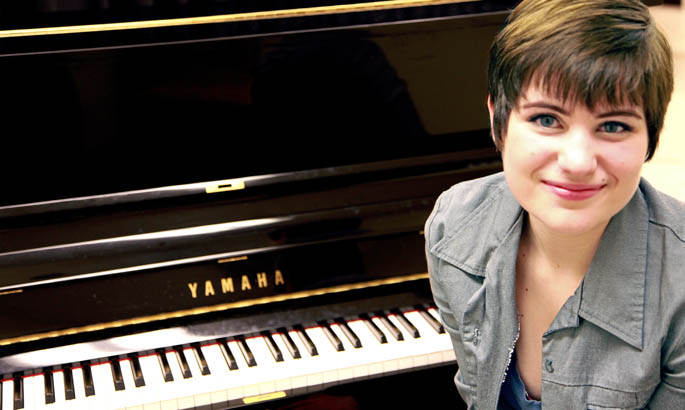 Jenny Wine is making the most of living in downtown Pittsburgh. One of the Point Park freshman's favorite things is to search for music venues around town and find ways to get there.
"I might never get used to all of the hills in Pittsburgh," says this native of Wichita, Kansas, "but I'm proud of figuring out the city."
Wine plans someday to figure out New York City as well.
The bright lights of Broadway are a distinct possibility; she already has a national musical theater award to her credit.
Wine won the "2009 Jimmy Award for Best Performance by an Actress" at the National High School Musical Theater Awards. She arrived in New York City last summer as one of 32 "best of the best" of regional musical theater competitions. After days of rehearsals, master classes and a chance to perform on a New York stage, Wine emerged a winner and received a cash prize, a four-year scholarship to New York University and national recognition for her talents.
Yet what she wants to talk about isn't the national award, but her first opportunity to work with choreographer Kiesha Lalama-White.
Lalama-White, the Point Park University dance instructor and Pittsburgh Civic Light Opera education director, was the National High School Musical Theater Awards choreographer.
Related links
Point Park's Theatre program
Concentration in Musical Theatre
Conservatory of Performing Arts
"Kiesha was a big motivator for everyone competing," says the student. "She treated us with respect but it was clear she had extremely high expectations." Wine liked the combination and the choreographer's way with students. After the competition, when Lalama-White asked if she had considered Point Park's Conservatory of Performing Arts, Jenny Wine took the question seriously.
With the choreographer's recommendation, Wine soon traveled to Pittsburgh to audition for Jack Allison, Point Park's head of musical theatre.
"When I heard what an exciting sound she had, I knew she would be a real asset to the program," says Allison. "I wanted to make every effort to have her here at our Conservatory."
After reviewing academic transcripts, Point Park University offered Wine a scholarship for academics along with a scholarship for talent. The freshman says everything just fell into place for her.
"I was so impressed with Point Park's facilities, and I felt at home at the school. Plus Pittsburgh felt like the right-sized city for me. I plan to move to New York City someday, but I wasn't ready to do that yet. Pittsburgh is great preparation for New York!"
Wine loves studying and living on Point Park's downtown campus. She raves about her classes - "My instructors have opened my eyes to so different genres of tap" - and her musical theatre courses at the Conservatory. And she enthuses about walking out of her residence hall right into the heart of a city and finding her way to see live music whenever the mood strikes.
So what type of music does the musical theatre major seek out? "Definitely rock and roll," she says with a smile in her voice.
Video
Watch Jenny Wine singing "I Dreamed a Dream" from Les Miserables at the 2009 National High School Musical Theater Awards.
Photo by Andrew Weier, senior photojournalism major