more news
Musical theatre grad named PG Performer of the Year
Thursday, January 7, 2010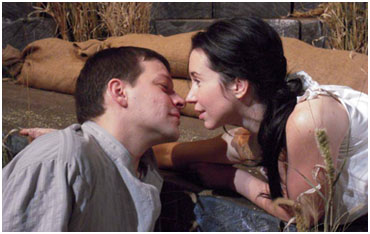 Braden Moran and Robin Abramson in Mary's Wedding at City Theatre.
Photo by Suellen Fitzsimmons
Robin Abramson, a 2003 musical theatre graduate of Point Park University's Conservatory of Performing Arts, was recently named Post-Gazette Performer of the Year for her roles in City Theatre's productions of Mary's Wedding by Stephen Massicotte and Blackbird by David Harrower.
Abramson also played the lead role of Maura Conlon in The REP's world premiere production of FBI Girl: How I Learned to Crack My Father's Code by Tammy Ryan at Point Park University's Pittsburgh Playhouse in the spring of 2007, among several other noteworthy performances. During her time at Point Park, she performed in Three Sisters and Floyd Collins.
She is one of the youngest actors to be given this honor.
Abramson joins a host of other Point Park actors who have received this designation:
John Shepard, chair, department of theatre; 2008
David Whalen, alumnus; 2007
Sheila McKenna, assistant professor; 2005
Robin Walsh, alumna and head of M.F.A. in acting; 1998
Doug Mertz, alumnus; 1995-1996
Maria Becoates-Bey, alumna; 1994-1995
David Butler; 1993-1994
Related link
Read the Post-Gazette story