more news
Musical Theatre Grad Performs in 'Forbidden Broadway: Alive and Kicking'
Tuesday, December 11, 2012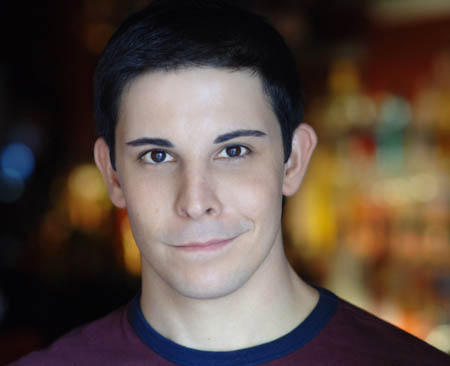 Meet Marcus Stevens
Job title/current employer: I'm an actor and a writer, currently performing off-Broadway in Forbidden Broadway: Alive and Kicking
Major and degree earned at Point Park: B.F.A. in musical theatre
Hometown: Philadelphia, Pa.
Now living in: New York City
Hobbies/interests: Missing Pittsburgh from time to time, but mainly checking out New York City bakeries
Why did you choose Point Park?
When I was growing up, I was lucky to be surrounded by amazing theatre programs for young people. One was called Young People's Theatre Workshop, and the other, Upper Darby Summer Stage. Both of these programs were a place for me to make friends who were all pursuing theatre. At a certain point, some of these friends who were ahead of me in school, all started to migrate to Point Park. I decided to go visit and see what all the excitement was about. I saw shows, sat in on some classes and was hooked. Unlike other programs I visited, the energy at Point Park was warm and inviting, and you could feel right away that the faculty and the students were a family working together. Not to mention the quality of the performances I saw blew my mind!
What was the most beneficial experience at Point Park?
There were so many. I was challenged in all of my classes by great teachers like Sheila McKenna, Rich Keitel, Robin Walsh, John Shepard, John Amplas, Kiesha Lalama and many others. Being in plays and musicals directed by Scott Wise and Shirley Tannenbaum stretched me in unbelievable ways and truly taught me to be a versatile actor. One of the best and most beneficial experiences I ever had there occurred after I graduated, when Ron Lindblom produced my first musical, RED. His belief in my abilities gave me the confidence to be a professional writer, and Scott Wise's excellent direction and dramaturgy helped me (and RED) win the Richard Rodgers Award in 2005.
What inspired you to pursue a career in theatre arts?
I took to theatre at a young age. I was a shy, but very imaginative kid and it gave me an outlet to step outside of myself and be creative. I grew up only two hours from New York, so my family made sure they took my sister and I to shows as often as they could, and I was very lucky to have many outlets in my hometown to stretch my theatre musicals. Point Park was the next step in my development, giving me the tools and the confidence to be a professional theatre artist.
What advice do you have for today's students?
I think that your theatre education is what you make it. The more you put in, the more you'll get back. Don't sit around and wait for things to come to you. Develop an appreciation for all areas of your craft, not just acting or singing, but set design, direction, theatre history and anything else that fascinates you. Try to maintain a healthy relationship with your program and your fellow actors. Negative thinking will always bring you down. Competition is healthy, but the healthiest competition is with yourself. Always think, "How can I be better than I was last time? How can I improve my work?"
What are your career goals?
Like most artists, I just want to keep being able to make a living doing what I love. So far I've been very successful with that. I, of course, would love to reach as wide an audience as possible, so I wouldn't scoff if Broadway came knocking at my door. Eventually, I'd love to have a theatre company that can be my artistic home. It would be great to have one place where I can write, direct and perform.
Photo by Jordan Matter