more news
Musical Theatre Major Studies Shakespeare at London Academy of Music & Dramatic Art
Tuesday, September 22, 2015


Meet Jennifer Arfsten
Summer intensive: Student at the Summer Shakespeare Intensive, London Academy of Music & Dramatic Art
Major: B.F.A. in musical theatre
Expected graduation: 2016
Hometown: Littleton, Colo.
High school: Dakota Ridge High School
College activity: Honors Program
Hobbies/interests: Dance, film, history, feminism
Dream job: Performing with the Royal Shakespeare Company
What is the London Academy of Music & Dramatic Art?
The London Academy of Music & Dramatic Art is one of the premiere performing arts conservatories in London and the United Kingdom.
LAMDA has trained renowned actors, stage managers, technicians, directors, designers, musical directors and movement instructors. They have an incredible list of notable alumni, including David Suchet, Ruth Wilson, Richard Armitage, David Oyelowo, Chiwetel Ejiofor and Benedict Cumberbatch.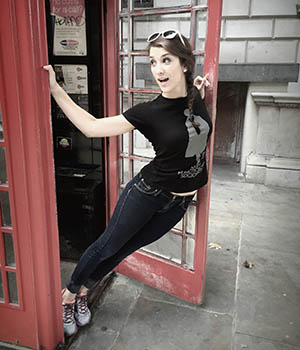 How were you selected to study at LAMDA's Summer Shakespeare Intensive?
I went through a lengthy application process that included submitting my resume and a letter of recommendation from my Shakespeare instructor at Point Park, John McManus.
Tell us about your experience at LAMDA.
Attending LAMDA was an incredible experience! I learned so many new techniques that complimented all that I've learned as a musical theatre major at Point Park. Continuing my training in a new environment and exploring new techniques with talented instructors was awesome. It meant so much to have the chance to study Shakespeare at a school that is renowned for classical training.
Additionally, I met dozens of students from all around the world. In my core group of 12 actors, we had students from Iceland, Germany, China, Canada, France and the United Kingdom. We had the opportunity to see many shows while in London, on the West End, at Shakespeare's Globe Theatre and with the Royal Shakespeare Company. While on our trip to Stratford-upon-Avon, we had the chance to meet and network with the unbelievably talented actors of the RSC, who were very generous with their time and advice.
What was it like studying in London?
I have always dreamed of visiting London and it completely exceeded my expectations. I was a short tube ride away from some of the most famous sites in the world. Though I was only there for a month, I covered a lot of ground and had the opportunity to visit multiple castles, museums, libraries, landmarks and theaters. It is a gorgeous city with a beautiful history and cultural scene.
How will you apply what you learned at LAMDA to your remaining experience at Point Park?
I have already had the opportunity to apply some of my newly learned techniques in a recent callback. From having the opportunity to watch a large amount of exceedingly well-done Shakespeare, I have a completely new idea of how I believe Shakespeare should be performed. I look forward to embracing a more personal way of sharing Shakespeare with an audience, and I hope to share my experiences with all of my fellow classmates at Point Park.
More About: study abroad, Conservatory of Performing Arts, Honors Program, musical theatre, theatre