more news
New Facilities and Equipment Provide Cinema Students Hands-on Training
Tuesday, November 19, 2013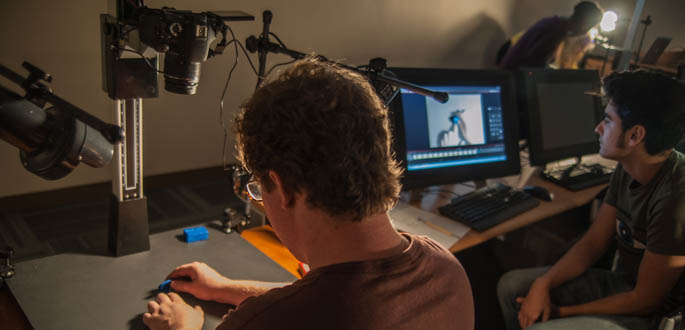 Students animate clay characters they created using the stop motion process in the Fundamentals of Animation class.
Point Park cinema arts students are gaining hands-on experience in the newly renovated facilities in the Patterson Building and in West Penn Hall.
---
Related links
Cinema Production
Animation and Visual Effects
Screenwriting
Conservatory Requirements
During the summer of 2013, work was done in the Patterson Building to create a new sound mixing suite and color correction suite. On the first and second floor in West Penn is a flexible production facility, known as Studio Two, a 30-ft screening facility, and new classrooms equipped with computers and digital tools designed for the animation and visual effects program.
"In our new screenwriting room, our student writers now have the ability to project their screenplays for the entire class to view," said Rick Hawkins, artist in residence in the Department of Cinema and Digital Arts. "Our students are having the experience for four years to use state-of-the-art equipment that's being used in Hollywood to make movies."
Ben Jackson, a freshman majoring in cinema production, said one of the reasons he chose to attend Point Park is because of the hands-on opportunities he would have in and out of the classroom.
"The classrooms and equipment we get to use are so up-to-date. Plus, it's really nice to have classes in my major my freshmen year," Jackson said. "The faculty are so nice and have a lot to add to their teaching."
Animation students are putting their creativity to the test in their new lab, equipped with 21 computers with Cintiq screens - a tablet screen designed for pinpoint accuracy - and new software (GameMaker, ZBrush, Maya, NUKE, MotionBuilder, Dragonframe, Sculptris and Adobe Production Suite CC, including After Effects and Premiere).
"Everyone in the classroom has a Cintiq tablet, which means I can demonstrate and the students can follow along, it's very hands-on," said Associate Professor Pahl Hluchan. "I can cover a lot more and I've noticed the students' work has improved dramatically because of it."
Connected to the new lab is a drawing classroom where students can learn about traditional hand drawing.
"The new equipment is very impressive and the drawing room is extremely convenient," said Andrew Hanlin, a junior animation and visual effects major. "It's exciting to have hardware and programs that are currently the industry standard; it makes me feel like a professional."
Added Hawkins, "We are constantly trying to make improvements so that our students can seamlessly move from an academic situation to a professional one. This is just heaven for us to have these new spaces - I'm so thrilled to be here."
More About: cinema arts, screenwriting, animation and visual effects, cinema production, animation