more news
Oscar winner Estelle Parsons visits Point Park
Monday, April 12, 2010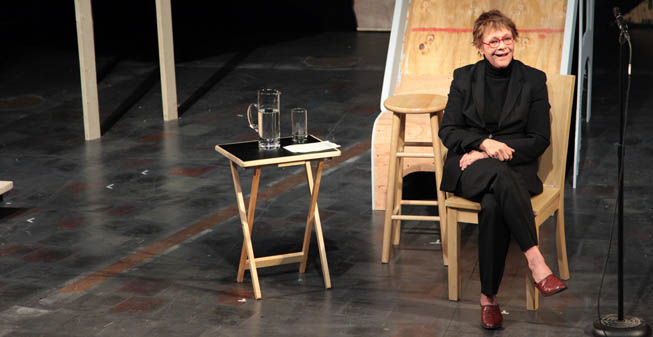 Academy Award-winning actress Estelle Parsons talks with Point Park students during a question-and-answer session at the Pittsburgh Playhouse.
Conservatory of Performing Arts students and faculty had the honor to talk with Estelle Parsons, the Academy Award-winning actress who was in Pittsburgh in April playing the female lead in August: Osage County at the Benedum Center.
Related links
Point Park's theatre program
Parsons participated in a question-and-answer session with the students, telling many stories from her career. Sitting on stage at the Rauh Theatre at the Pittsburgh Playhouse, Parsons discussed her experiences, lessons, struggles and methods.
She told the students the most important part of acting is knowing how to commit to oneself and let the self lead. This "instrument" is key to developing a character and truly making an impact on the audience.
"This instrument is guiding your life, your day, your activities," said Parsons. "Inhabit the character."
Parsons has had an illustrious acting career, beginning with her Broadway premiere in Happy Hunting with Ethel Merman. She went on to receive Tony nominations for her performances in The Seven Descents of Myrtle, And Miss Reardon Drinks a Little, Miss Margarida's Way and Morning's at Seven. Parsons also appeared with Steppenwolf in Rod Wooden's Your Home in the West and Al Bennett's Talking Heads.
She won an Academy Award for her performance in Bonnie and Clyde, and received an Oscar nomination for Rachel, Rachel. Parsons also appeared in I Never Sang for My Father, Don't Drink the Water, Watermelon Man, For Pete's Sake, Dick Tracy, Al Pacino's Looking for Richard and many others. On television, she played the role of Roseanne's mother on "Roseanne" for 10 years, starred in "The UFO Incident" and often appeared on "All in the Family" and "Archie's Place." She was inducted into the Theatre Hall of Fame in 2004.
In addition, Parsons was the first woman to do news reporting for a television network and was an original member of "The Today Show."
Article by Meagan Stroud, junior advertising and public relations major
Photo by Andrew Weier, senior photojournalism major