more news
Pittsburgh Playhouse Launches New Website
Friday, August 23, 2013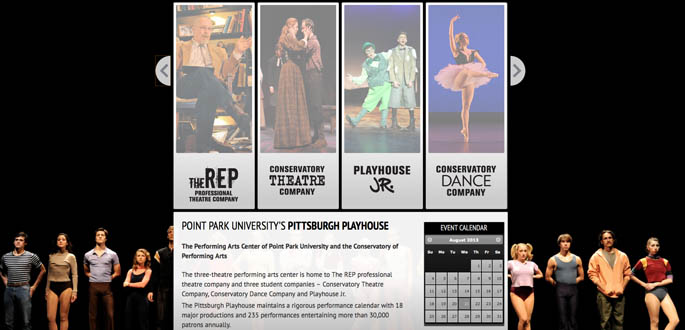 Pictured is a screenshot of the redesigned Pittsburgh Playhouse website.

The Pittsburgh Playhouse has launched a redesigned website, www.pittsburghplayhouse.com, just in time for the 2013-14 performance season.
The Playhouse, located in Oakland, is the performing arts center of Point Park and the Conservatory of Performing Arts. Conservatory students have the unique opportunity to work in a professional setting at the Playhouse while learning their craft.
The three-theater complex is home to the REP, the professional theatre company, and three student companies: Conservatory Theatre Company, Conservatory Dance Company and Playhouse Jr.
Check out the new website to learn more about the upcoming season lineup, read the latest Playhouse news, view photos or purchase tickets.
Learn More
Conservatory of Performing Arts
Audition or Interview for the Conservatory
Pittsburgh Playhouse
Request Information
More About: Conservatory of Performing Arts, Conservatory Dance Company, Pittsburgh Playhouse, The REP, Playhouse Jr., Conservatory Theatre Company