more news
Pittsburgh theater shows alum's film 'The Complex'
Friday, March 23, 2012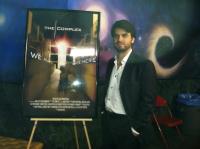 On Sat., March 24, the Hollywood Theater in Dormont is showing the film The Complex by Point Park alumnus Josh Spiegel.
Spiegel directed the movie and co-wrote it with fellow Pittsburgher Christy Mele.
Spiegel graduated from Point Park University in 1998 with a bachelor of fine arts degree in film and video production. He currently lives in Los Angeles and works on directing and editing projects. The Complex premiered in L.A. Spiegel plans to attend the showing in Pittsburgh.
The film is a comedy about two friends who move into an apartment complex in L.A., determined to start a new life, but are confronted with a strange series of events including tenants beginning to look alike.
Spiegel has entered The Complex in a number of film festivals and is currently looking for a distributor.
Among past projects Spiegel created a series of Web sitcoms called Headset Jockeys. The comedy/horror pieces revolved around a retail job from hell. The Plum native says he plans to make a feature film based on the webisodes in the future.
Learn More
Read about The Complex on IMDb. For ticket prices and more information about Saturday's showing, visit the Hollywood Theater's website.
Learn about Point Park University's cinema and digital arts programs.