more news
Playhouse Jr. Offers a World of Opportunity for COPA Students
Tuesday, May 15, 2012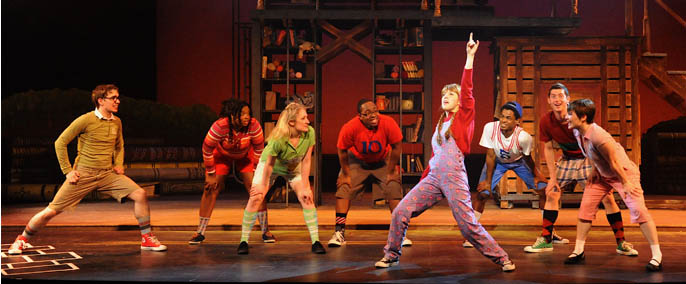 P oint Park acting and musical theatre students perform a scene from Yo, Vikings!
Beginning this May, Playhouse Jr. kicks off its 63rd season of high quality theatre for young people and families.
The second oldest children's theatre company in the country, Playhouse Jr. vividly brings to life wonderful, imaginative stories, classic novels and new works while introducing youths and their families to the magic of live theatre.
In addition to being a treasured theatrical institution in the Pittsburgh region for generations, the company offers many students in Point Park's Conservatory of Performing Arts meaningful training and artistic growth opportunities that influence them long after the lights go down.
This year's season includes a new musical, Yo, Vikings!, by Point Park alumnus Marcus Stevens and Sam Willmott; the contemporary classic tale, The Outsiders, by S.E. Hinton, adapted for the stage by Christopher Sergel; and the wildly adventurous tale 13 Bells of Boglewood by Max Bush.
Thirty-three acting and musical theatre majors will take the stage, performing for thousands of school-age students during fieldtrip performances during the week and for family audiences on the weekends.
The stories are brought to life, in part, by the Conservatory's technical theatre/design and stage management majors who help lead the production process, manage the performances and who design the incredible environments consisting of sets, costumes, lights and sound that bring these stories to life.
Find out more about this season by visiting www.pittsburghplayhouse.com
Video: Yo, Vikings scenic design interview
Video: The Outsiders director/cast interview