more news
Portfolio Animation Workshop to be held for High School Students
Monday, December 31, 2012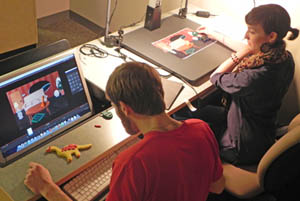 The cinema arts department at Point Park University will host a Portfolio Animation Workshop for high school juniors and seniors on Saturday, Jan. 26 on campus.
This intensive, hands-on workshop is designed for students interested in pursuing a career in animation. Students will learn how to put together a high quality professional portfolio to submit to universities. Workshop participants will:
Learn how to demonstrate stop motion and animation timing techniques
Design clay characters and bring them to life
Create a short film for portfolio inclusion
Students should bring 15 to 20 artworks for discussion. Experienced faculty will individually review the work and make suggestions on what to include in your application to be more competitive for scholarships.
The fee to attend the workshop is $25 per student, which includes all materials and lunch. The workshop is open to the first 15 students who apply.