more news
Producer, writer offers career insights to cinema students
Friday, March 5, 2010
'Get your foot in the door any way possible'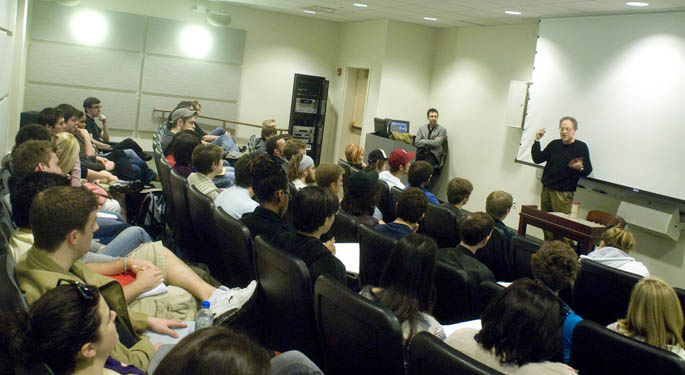 Scott Goldstein talks with students in Point Park's cinema arts program during a campus visit in March 2010.
A large part of being successful in any artistic field is utilizing experiences to their full potential and recognizing the importance of networking. On Thursday, March 18, two-time Emmy- and Grammy Award-winner Scott Goldstein spoke to cinema arts students about these lessons and others he's learned throughout his illustrious career.
Goldstein is a producer, writer and director whose major credits include producing LA Law (NBC, two Emmy Awards); Doogie Howser, MD (ABC); the TODAY Show (NBC); Endgame: Ethics and Values in America (PBS); Science Fiction: A Journey into the Unknown (FOX); Ordinary People, the Millennium Machine and the Point of View Diner exhibits (Simon Wiesenthal Center, Museum of Tolerance Los Angeles and New York Tolerance Center).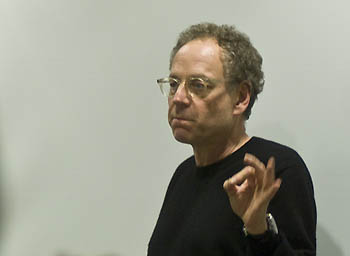 Goldstein was in Pittsburgh for the screening of his feature documentary, Where I Stand: The Hank Greenspun Story, as part of the Pittsburgh Jewish Israeli Film Festival. During his Point Park visit, he used a segment of this film and a short scene from Doogie Howser to illustrate several lessons he learned while working in the film business.
One of the most important lessons that Goldstein stressed to the students was taking advantage of any opportunity, no matter what it is.
"It doesn't matter what job you get," said Goldstein. "Do your job and do it well."
To prove this point, Goldstein referenced several moments in his life and in others where small yet well-done tasks, such as getting a good cup of coffee, led to great opportunities.
"Get your foot in the door any way possible as soon as possible," he said. "If you have good taste and work hard, there's no reason you shouldn't get a job."
Regarding the actual process of making films, Goldstein emphasized the importance of effective transitions, in addition to the importance of knowing how to write and how to speak to actors. He also spoke on the need to portray passion and heart in any story that a filmmaker tells.
"Emotions trump everything," Goldstein said. "Operate more out of passion than intellect."
On a closing note, Goldstein spoke about the impact that a film program like Point Park's, which allows students to create films and build a portfolio, can have on a career.
"Having a degree and a film to show someone will take you a long way," he said.
Related links
Cinema Arts program
Conservatory of Performing Arts