more news
Theatre Arts Majors Enhance Their Knowledge of the Art and Craft of Directing by Producing the Raymond Laine Memorial One Acts Festival
Thursday, January 28, 2021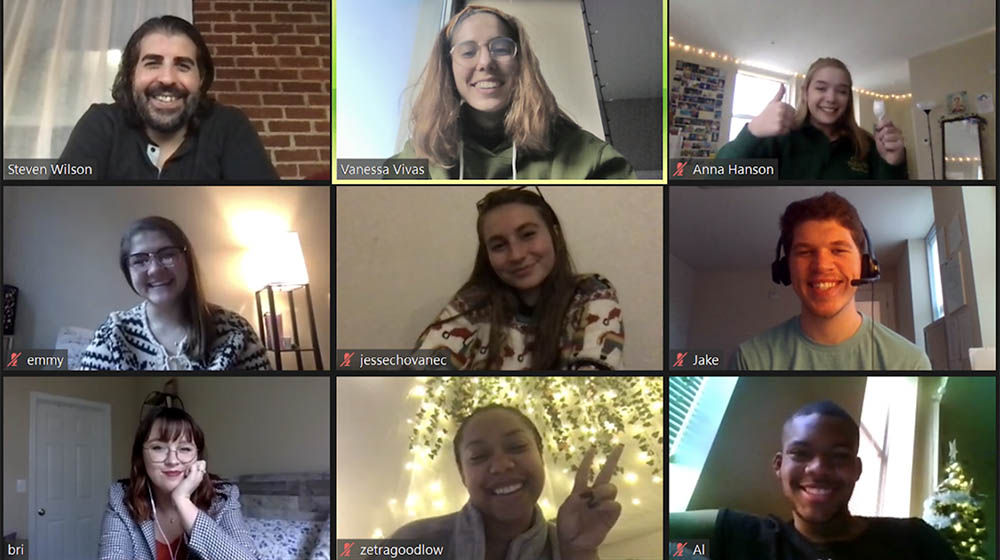 Theatre arts majors in the Advanced Directing course
Point Park University theatre arts majors enhanced their knowledge of the art and craft of directing by producing the Raymond Laine Memorial One Acts Festival, held each year at the end of the fall and spring semester. 
"The festival is a collaboration of one acts directed by the Advanced Directing class at Point Park University," said Emmy Masteller, a junior theatre arts major from The Sharon Academy in Stafford, Vt. "Normally they are produced and presented back-to-back in the Pittsburgh Playhouse. This year things changed because of COVID-19 and we all made short films. I directed, stage-managed and helped film my piece, Stuffed."
The students in alumnus and part-time instructor Steven Wilson's Fall 2020 Advanced Directing class included: 
Jacob Bartosh, The Place Where Lost Things Go
Jesse Chovanec, Any
Zetra Goodlow, Blood at the Root
Anna Hanson, Letters of a Lifetime
Emmy Masteller, Stuffed
Vanessa Vivas, Snowing Sand
Albert Wash II, You're Working the Checkout at Walmart
*Bri Fallahee joins the class for the Spring 2021 semester
Hear more from the directors about their experience below. 
Video: One Acts Festival Trailer 
---
Meet the Directors
---
---
---
---
More About: screenwriting, faculty, Conservatory of Performing Arts, Shaler Area High School, theatre arts, broadcast reporting, international