more news
Faculty Q&A: Meet Samuel G.C. Muñoz, Associate Professor of Movement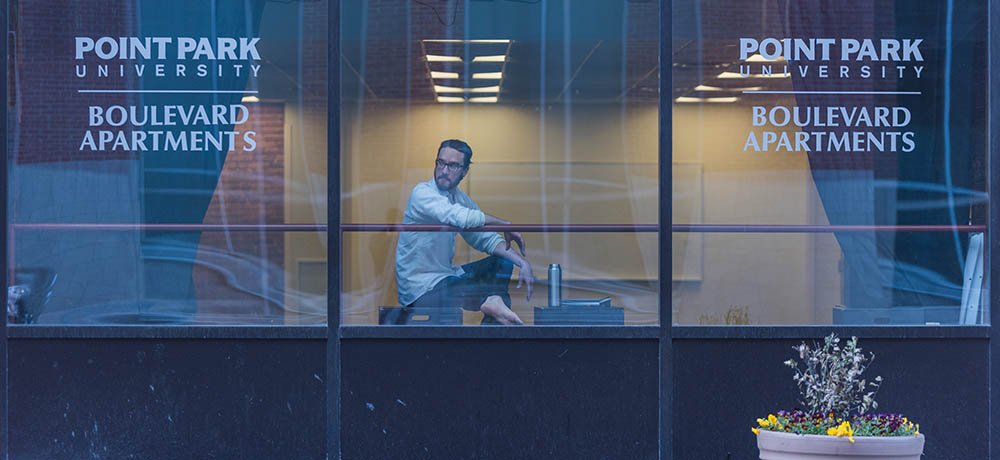 Samuel G.C. Muñoz is an actor, director, fight director, stunt coordinator, producer and voice over artist whose work has been seen in a variety of theaters, films and festivals. He is an associate professor of movement in Point Park University's theatre program.
What inspires you most in the classroom?
The art, mentors, students and the possibilities of the unknown. First, I fell in love with the art. Then I was inspired by my artist mentors who trained me. They encouraged me to explore another side of the craft — teaching. This led me to my students, the ones who are willing to show up every day, do the work, love this craft, who want this to be a part of their lives, and who truly give it their all even on challenging days.
Through teaching in this art form, I have discovered unknown pathways within it that have enabled me to grow as an actor, teacher, student and storyteller. That is the easy way to say what inspires me to show up every morning to class. But, it is not that crystal clear to articulate. It's more than words and is filled with emotion and experiences from my past. It's a calling.
What is your approach to teaching?
My teaching approach is physical, collaborative and ensemble-oriented. Where the process or journey of the task is to discover a truthful physical life of possibilities relating to performance. I take into consideration that every student has different challenges and perspectives. Therefore, there are many paths for the student to progress forward. I believe that introducing various movement practices with different acting methodologies leads to wider ranges, depths and nuances in performance. I use the following practices:
The Alexander Technique
Stage Combat
Viewpoints
Laban
Physical Improv Theater
Bartenieff Fundamentals
Viola Spolin Improvisational Technique
Meyerhold Biomechanics
Grotowski - Plastiques
Michael Chekhov Technique
Linklater
What do you like most about teaching at Point Park?
At Point Park University, I love the variety of professional, passionate colleagues, and the student artists who share a willingness and hunger for the work. Also, Pittsburgh is inspiring. The steel, hills, rivers and history. Pittsburgh has reinvented itself in many recent and current ways and has become a beautiful, thriving hub of possibilities for the arts and the artist.
What classes do you teach?
Movement for Actors (introductory, intermediate and advanced)
Stage Combat
Stage Movement for Stage Managers, Stage Combat
What advice do you have for students?
Jump in! Have fun! Work your tail off! Everyone has their own path, so don't even try to follow others. Allow them to inspire you. Get out to the theater, see other forms of art and take time to play with artists. To be an actor you have to love being a storyteller and creator. Observing your peers, enormous amounts of focused detailed practice, a willingness to play with the unknown, and failing will help you on your journey. Get out of your head solely, into your body and be willing. At the end of the day, it's about the quality of work, process and not the end result. I have found, unexpected happiness and growth happens when you least expect it. Be in this craft, art and industry because you love the work of which it requires. 
Video
Photos: Stage Combat Class
Photos by Nick Koehler, sophomore photojournalism major
More About: faculty, musical theatre, Conservatory of Performing Arts, theatre, acting