more news
Shirley Jones Scholarship recipient meets star
Thursday, April 14, 2011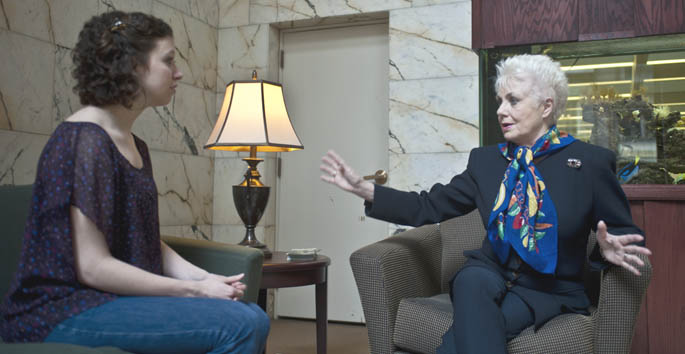 Musical theatre actress Shirley Jones, right, talks with Point Park student Kristen Sherman, the first recipient of the Shirley Jones Scholarship.
Related links
Musical theatre program
Conservatory of Performing Arts
Apply to the Conservatory
For Point Park University freshman Kristen Sherman, an added element of excitement to being the first recipient of the Shirley Jones Scholarship was the opportunity to meet the actress herself.
Jones, star of stage, screen and television, was in Pittsburgh to attend The Playhouse Rocks Starmakers gala on April 2 and met with Sherman while visiting the Point Park campus.
"It was such a great honor to be in the presence of a musical theatre legend. She was so nice and down to earth," says Sherman. "It was so kind of her to share her experiences with a young, aspiring musical theatre actress."
This is the inaugural year for the scholarship, which is given in Jones's name by the University to a Point Park musical theatre major who shows great promise. Sherman, a graduate of the Youth Performing Arts School in Louisville, says she was ecstatic when she learned she was the recipient.
"I had grown up watching so many of her films, mainly Oklahoma! and The Music Man, and she was very much a household name in my home," Sherman says. "After finding out I received the Shirley Jones Scholarship I tried to learn everything I possibly could about her."
And there's a lot to learn because Jones' list of accolades is long. She began her career on the Pittsburgh Playhouse stage and went on to star in numerous stage musicals, movies and television shows. She won the Academy Award for Best Supporting Actress in 1961 for her role in Elmer Gantry. Jones is also known for her role as Shirley Partridge on the television show The Partridge Family.
So what exactly does a Hollywood veteran say to a young rising actress?