more news
Showcase season underway for Conservatory students, alumni
Friday, May 11, 2012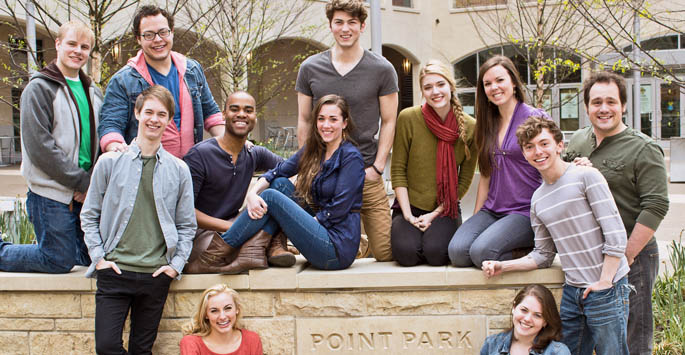 2012 Acting and Musical Theatre Senior Showcase candidates.
Each year, Point Park's top acting, cinema, dance and musical theatre seniors are selected to participate in the Conservatory of Performing Arts annual showcases to help launch their careers.
This year's showcase season begins with the department of dance May 9 at Point Park, followed by acting and musical theatre May 14 in New York City and May 23 in Los Angeles. The cinema showcase concludes the season on May 21 in Los Angeles.
"Showcase participants represent some of the Conservatory's top talent and promising new artists of tomorrow. Our showcases provide industry professionals with an opportunity to meet and view the work of our gifted new alumni for the purpose of future employment," said Joe McGoldrick, director of artistic recruitment.
In addition to the student showcases, Conservatory alumni in New York City and Los Angeles are invited to attend the annual reunions. McGoldrick said the goal of the reunions is to promote networking.
"The reunions have become a tradition that is looked forward to each year by many of our graduates. The events work to create a bond between the graduate and the Alumni Association as well as the University," he said. "We hope some day to have chapters in both cities that will carry on activities throughout the year promoting the University and helping in the Conservatory recruitment process."
Dance Department Senior Showcase
May 9 - 11, Point Park University
This is the third year for the dance showcase. Select artistic directors, choreographers and agents travel to Pittsburgh May 9 - 11 to attend a performance featuring the senior dance majors. Dance professionals will teach technique classes and repertoire as part of the audition process.
Industry professionals in attendance include:
• Maria Caruso, Bodiography
• Stephanie Pizzo, Eisenhowser Dance Ensemble
• John Lehrer, Lehrer Dance
• Sidra Bell
• Alan Obuzar
• Gerard Holt, Mid-Atlantic Contemporary Ballet
• Greer Reed, August Wilson Contemporary Dance Ensemble
Acting and Musical Theatre Senior Showcase
May 14, Five Angels Theatre, New York City

May 23 (Acting), Greenway Court Theatre, Los Angeles
This is the ninth year for the New York Showcase, and the fifth year for the Los Angeles Showcase.
The students auditioned and 12 seniors were selected by a panel of distinguished faculty and local industry professionals. The students took a showcase class at Point Park twice a week to prepare. This year's showcases were directed by Point Park faculty John Shepard and Jack Allison.
The students will perform for casting directors, talent agents, managers and other industry professionals.
Conservatory Alumni Reunion
May 14, The Manhattan Club at Rosie O'Gradys, New York

Join fellow alumni on Monday, May 14 at The Manhattan Club at Rosie O'Gradys, 7 - 10 p.m. Visit with old friends and teachers from the conservatory as well as Point Park University President Paul Hennigan as you enjoy an entertaining evening, courtesy of your alma mater. Feel free to bring a guest.
• RSVP online at pointpark.edu/alumni
Conservatory Reunion and Cinema Showcase
May 21, The Directors Guild of America Building, Theater 2, Los Angeles, 6:30 p.m.
This is the second year for the Cinema Showcase. The Department of Cinema and Digital Arts sponsors and takes students to the Los Angeles showcase, where they meet with a select group of industry professionals and alumni for a screening of student work. During this four-day event, students also meet with managers, agents, professional writers and production companies, as well as visit television stages, studios and visual effects and post houses.
The department also produces an annual showcase DVD that features the best student productions of the year. The showcase DVD is distributed to production companies, agencies and industry professionals in Los Angeles, New York City and regionally.
Selected Films:
• Requited
• Oneironauts
• Turnaround
• Thomas's Promises
• On and off Again
Alumni Reunion, Directors Guild of America, 7 - 10 p.m.
Be our guest at the annual celebration for conservatory alumni in Los Angeles. Visit with old friends and teachers from the conservatory as you enjoy an entertaining evening, and view short films produced by the 2012 Cinema and Digital Arts class. Feel free to bring a guest.
For more information, contact Joe McGoldrick at 412-392-3452 or email jmcgoldrick@pointpark.edu