more news
Stage Management Majors Work Side-by-Side with Broadway's Patrick Cassidy
Tuesday, December 3, 2013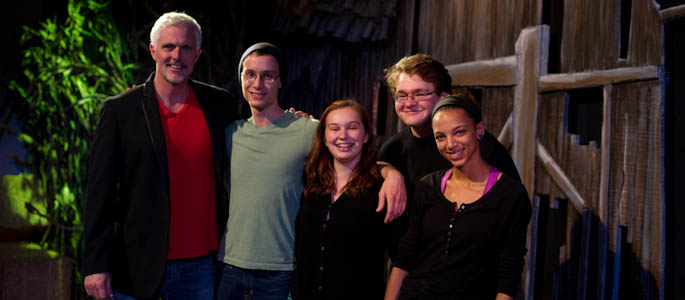 Pictured left to right: Patrick Cassidy, Garrett Kerr, Gina Guerriere, Hugo Schroeder and Nicole White.
Four Conservatory of Performing Arts stage management students had the unique opportunity to work side-by-side with Broadway's Patrick Cassidy during the fall 2013 semester.
Oklahoma! Stage Management Video
---
Learn More
Stage Management Program
Technical Theatre/Design Program
Conservatory Requirements
Apply Online Now
Cassidy came to Point Park to direct the Conservatory Theatre Company's production of Oklahoma! at the Pittsburgh Playhouse.
"The stage manager is the director's right and left arm because he or she runs the show," Cassidy said. "The director leaves after opening night, and the stage manager runs the show to keep it in tact."
Senior Garrett Kerr served as the stage manager for Oklahoma!
"At Point Park, we are trained to be professionals. From the first day of freshman year, stage management majors are assisting on a production in one of the four production companies," said Kerr. "The basic principles and ideas of being a stage manager can be taught in a classroom, but where you really learn your craft is in the rehearsal room running a show."
According to Kerr, his primary function as the stage manager was to be the communication hub between all parties involved in the production - the director, designers, choreographer, technical director, etc. - and maintain an efficient and lively environment in the rehearsal room.
Fellow classmates Gina Guerriere, Nicole White and Hugo Schroeder were the assistant stage managers.
"As an assistant stage manager, I helped Garrett throughout the rehearsal process, took notes for Patrick during rehearsals and worked backstage to help run the show," explained Schroeder. "It was such an enjoyable experience working with Patrick; he really enjoys teaching and helping students grow."
Added Kerr, "Patrick expected a certain quality in my work and I was able to deliver."
Related Links
More About: theatre production, guest artists, Pittsburgh Playhouse, Conservatory Theatre Company, Conservatory of Performing Arts