more news
Student Choreography Project showcases artistic prowess
Tuesday, October 19, 2010
Annual concert lets dance majors put skills into practice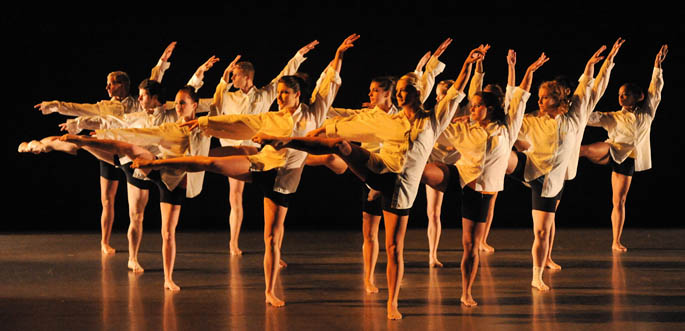 Student dancers perform a work during the Fall 2010 Student Choreography Project.
Point Park University's Conservatory of Performing Arts dance department strives to develop dance majors as complete, well-rounded artists. To put those skills into practice, each year the Conservatory Dance Company kicks off its season with the highly anticipated Student Choreography Project, a true showcase of the artistic ability of some of the Conservatory's most creative and driven students.
Related links
Point Park's Dance Program
Applying to the Conservatory of Performing Arts
Undergraduate Admissions
The concert is completely student produced. The choreographers must audition their pieces for a panel that selects the most innovative and interesting works.
This past October, 10 students were selected to participate in the concert. In addition to developing the work itself, the students hold their own auditions, rehearsals and make all of the artistic decisions related to their piece. Student Choreography Project enjoyed five near sold-out public performances in the George Rowland White performance studio in the University's dance complex earlier this month.
The students have the same responsibilities and expectations as a professional choreographer, and achieve professional results. Many of the pieces presented at the concert go on to be recognized at national festivals and awards, such as the American College Dance Festival Association.
Hear more about the Student Choreography Project experience from two of the student choreographers below and watch a clip of the performance video.