more news
Students audition for Hamlisch during workshop
Friday, October 28, 2011
Musical theatre students receive feedback, advice from award-winning composer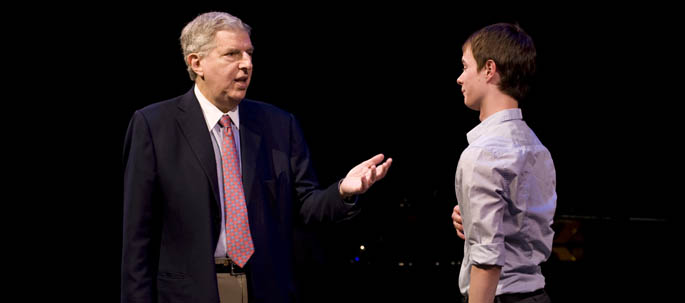 Marvin Hamlisch gives feedback to student Connor Russell after his audition during "The Art of the Audition" workshop.
Four Conservatory of Performing Arts students had the unique opportunity to audition in front of show business veteran Marvin Hamlisch and receive his feedback on how to make the most of an audition.
Musical theatre majors Elle DeMaria, Leah Fox, Jaron Frand and Connor Russell were selected by the conservatory faculty to perform in Hamlisch's "The Art of the Audition" workshop, which was held Oct. 17 in the George Rowland White Performance Studio on campus.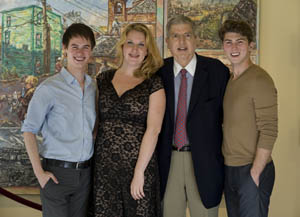 Marvin Hamlisch with workshop participants Connor Russell, Leah Fox and Jaron Frand.
---
Related links
Musical theatre program
Theatre department
Request information
Hamlisch is Point Park's distinguished master artist in residence and one of only two people who have won an Emmy, Grammy, Oscar, Tony and Pulitzer Prize (the other is Richard Rodgers). Hamlisch has also won two Golden Globes.
Fox said that being able to audition in front of Hamlisch was an amazing privilege and experience.
"I am one to always go for a challenge, and in my lifetime, he is the most notably famous person I have ever performed in front of in person," she said.
Frand was grateful for the unique opportunity to receive feedback from a composer, a point of view actors don't often get to hear.

"I had a great time trying new ideas out. I got the chance to sing four different pieces for him, from high style musical comedy to a John Mayer pop song, and I even sang one of his own songs! I think the best part of the whole experience was leaving the workshop with a Marvin Hamlisch approved audition package," he said.
The four students each performed two songs in front of Hamlisch, who offered his feedback. The students then went to work on their songs and later returned to perform again.
While the participants worked on their pieces, Hamlisch shared personal stories from his time in the industry and offered advice to the students in the audience.
"In your lifetime, to get 90 seconds of autonomy is unheard of, so make the best of it," he said about the audition process. He added that many casting directors are working on many shows at a time, so if you don't get the part you auditioned for, you could still be contacted about a different role.
Fox said that learning and mastering audition techniques is clearly crucial, and the most unique advice she received from Hamlisch was to select songs "more appropriate to my type." Frand was encouraged to "wow them with your voice ... leave them wanting more."
Hamlisch will give two more workshops during his time at Point Park. "The Works and Imagination of Marvin Hamlisch" is set for Dec. 13 at the Pittsburgh Playhouse, and a workshop on composing music for film will be held Jan. 27.
Hamlisch has composed many film scores, including the Oscar-winning score and song for The Way We Were and his adaptation of Scott Joplin's music for The Sting, for which he received a third Oscar.