more news
Students expand theatre repertoire with 'Room Service'
Wednesday, January 27, 2010
Classic farce gives Conservatory Theatre a chance to try screwball comedy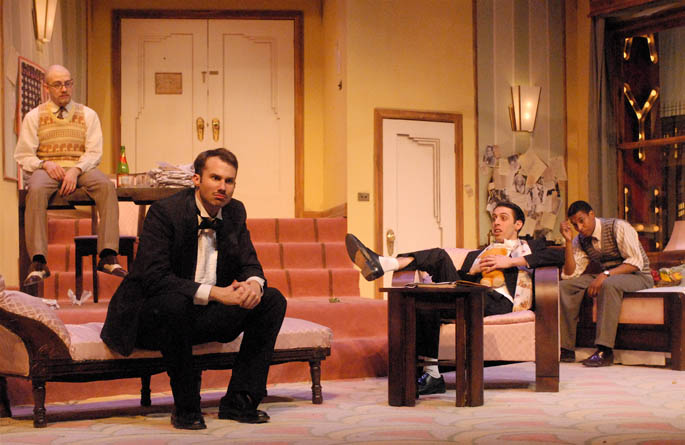 The goal of Point Park University's Conservatory Theatre Company is to produce great works while providing an exciting atmosphere in which our students can expand their repertoire of various styles of theatre. After this season's previous classical musical and play, the Conservatory Theatre Company is proud to present Allen Boretz and John Murray's farce, Room Service.
In this classic screwball comedy, an unscrupulous Broadway producer tries to find a backer for his new show. Holed up in a Times Square hotel room with 19 hungry actors and a ballooning room service bill, he tries to forestall eviction with an outlandish plan. Can their new play open on Broadway, or will they be evicted for their outrageous room service bill before the curtain has a chance to rise? This beloved, zany comedy about the lengths some people will go for their art is sure to have audiences laughing from beginning to end.
Room Service was originally produced and directed by George Abbott at the Cort Theatre in New York City on May 19, 1937. In addition to numerous revivals on- and off-Broadway, the play was also adapted into a film in 1938 starring the Marx brothers and Lucille Ball.
The production runs January 22-31 at the Pittsburgh Playhouse. Performances are Thursday through Saturday at 8 p.m. and Saturday and Sunday at 2 p.m. Tickets are $18-20 and can be purchased by calling the box office at 412.621.4445 or online at www.pittsburghplayhouse.com.
Photo by Drew Yenchak
Learn more about Point Park's theatre program
See the video below for cast interviews and a sneak peak at the production.