more news
Students, Faculty Spend Two Weeks In Prague at The World Exhibition of Theatre Design
Friday, September 25, 2015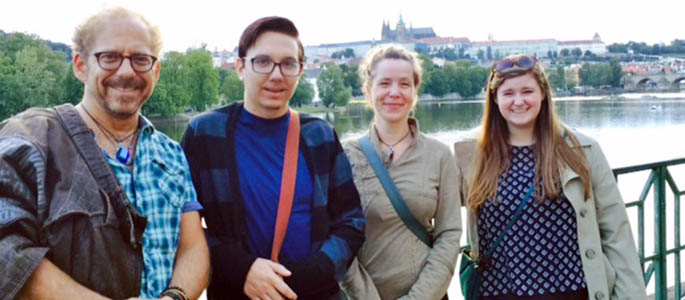 (L-R) Michael Essad, Tucker Topel, Stephanie Mayer-Staley and Claire Daniels in Prague.
Two theatre production students and their professors had an eye-opening experience exploring careers in stage production and the culture of another country at the Prague Quadrennial of Performance Design and Space, June 18-28. Professors Stephanie Mayer-Staley and Michael Essad attended the festival in the Czech Republic with the students.
"There are so many benefits of attending Prague Quadrennial for students and faculty alike. PQ helps re-charge my creative batteries," said Mayer-Staley. "Seeing designs, ideas and concepts for theatrical productions from all around the world is immensely inspiring."
Below, the students describe their experiences at PQ, what they learned and how they will apply it to class work, as well as why they chose to study theatre production at Point Park.
What is Prague Quadrennial and how are students selected to attend?
Photo Gallery
---
Learn More
The Prague Quadrennial is a theatre design festival that takes place every four years in Prague, Czech Republic, celebrating the best scenic, costume, sound, lighting, etc., from countries all around the world. This opportunity was available to all theatre production students (students were responsible for paying travel expenses). - Tucker Topel, a sophomore design major
What kinds of networking opportunities did you have at PQ?
There were numerous opportunities to meet with theatre artists from around the world. From informal mixers to conference-wide lectures, there were several chances to connect with others in the field. I enjoyed attending the Swedish national student exhibit because it featured daily workshops and encouraged collaboration among students. - Claire Daniels, a sophomore stage-management major
What key message did you take away from this experience?
It was my first time leaving the country, so it was just an eye-opening experience to see another part of the world and a different culture. What I really took away from this experience is that you can change the world no matter what you do in life. I was so excited to return to Point Park and keep working towards my dream of being a scenic designer. - TT
How will you incorporate what you learned into the work you do at Point Park?
Pursuing a career in the arts, it's easy to second guess yourself and wonder if you would be better off following a more conventional path. Seeing so many people working successfully in theatre and creating really stunning and ingenious pieces definitely re-energized my passion for doing what I love. If I learned anything from PQ, it is that a love of art is contagious, and I hope we can bring that energy back so Point Park can continue to create unique and meaningful pieces of theatre. - CD
Why did you choose Point Park for your major?
The strong Conservatory of Performing Arts programs attracted me to Point Park. I also liked that the campus is small and located in Downtown Pittsburgh. I knew that Point Park would be the best option to prepare me for the real world. - TT

I chose Point Park University for the incredible opportunities the stage-management program offers. It's a very hands-on program and you have the chance to start working on productions right off the bat. - CD
More About: theatre, design, theatre production, stage-management, study abroad