more news
Students make connections on set of 'Dark Knight Rises'
Thursday, September 22, 2011
Dozens of Point Park students, alums worked on 'Batman' film shot near campus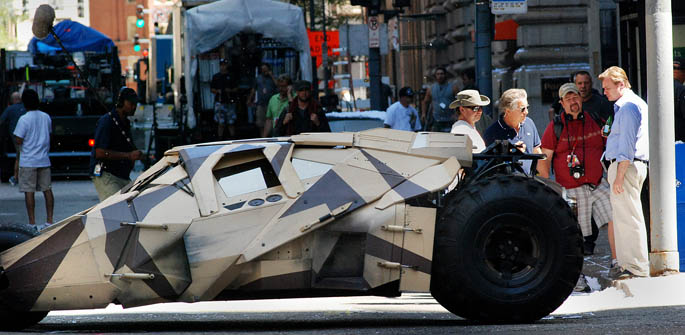 Above: Christopher Nolan, right, director of "The Dark Knight Rises," stands at the corner of Third Avenue and Wood Street in Pittsburgh as the Tumbler appears at the intersection. Below: Actors prepare to shoot a scene for "The Dark Knight Rises" on Wood Street outside of Point Park's Academic Hall.

One of the most anticipated films of 2012 was shot steps from the Point Park campus, and more than 50 students and alumni were part of the action.
The Dark Knight Rises, the final installment in director Christopher Nolan's Batman series, was filmed this summer at various locations in Pittsburgh, and Point Park graduates and current students were hired as everything from production assistants to location manager.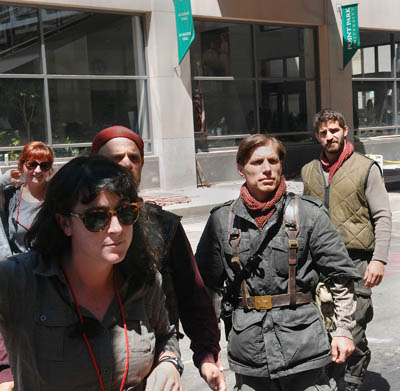 "It's a fantastic thing professionally for our students," said Chris Sepesy, an adjunct professor in the Cinema & Digital Arts Department at Point Park. "We have 19- and 20-year-olds who can say they've worked on Nolan's Dark Knight series."
Dana Gasparine, a senior who is double majoring in screenwriting and cinema digital arts with a concentration in editing, worked as a production assistant on the set for 10 days.
"It was an extremely valuable experience," Gasparine said. "It's a good addition to a resume and a chance to make contacts.
"You gain on-set experience, but it's not really about what you do, it's about who you meet," she continued. "You're more likely to get a job from someone you meet on set than from just having the experience of being on set."
Students started applying to work on the set after it was announced The Dark Knight Rises would be filming in Pittsburgh. Sepesy also sent the production company a list of 45 names.
Gasparine said that networking with contacts she made at her waitressing job is how she ultimately landed her PA position.
"Three people from the set came into the restaurant when I was working, and we talked about filmmaking," she said. "One of the people at my table called the set PA, who called me, and I got on for one day with the possibility of coming back the next."
Gasparine made a great impression, and her name was on the call sheet for the rest of the shoot. Other students had similar experiences.
"Our students were getting praised by the professionals. The Point Park students were taken aside and commended for what they were doing," Sepesy said. "I heard from everyone that they're starting a master list of PAs, and our students are front and center."
More than 50 major movies have been filmed in the Pittsburgh area in the last decade, including Abduction, The Next Three Days, Unstoppable and Warrior. This fall, One Shot with Tom Cruise will be shooting here.
"I just met with a new batch of freshmen and said coming to film school in this city is one of the best decisions you can make because you'll have golden opportunities to work on large movie sets, and you're at the top of the list," Sepesy said.
The Dark Knight Rises is set to be released in July 2012 and will star Christian Bale as Batman, Tom Hardy as Bane, and Anne Hathaway as Catwoman.
Photos: Copyright©, Pittsburgh Post-Gazette, 2011, all rights reserved. Reprinted with permission.