more news
Students Perform for Renowned Composer Stephen Flaherty at Pittsburgh Playhouse
Thursday, November 5, 2015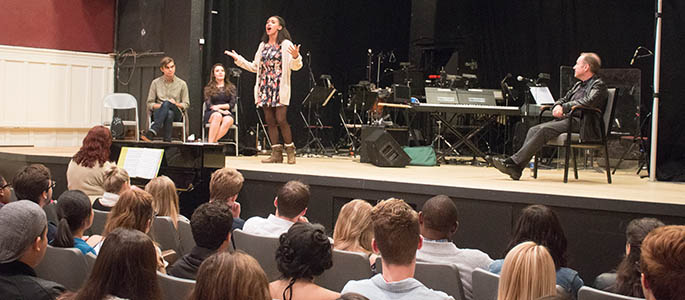 Piano accompanist Camille Rolla, students Ben Northrup, Morissa Trunzo, Jasmine Overbaugh and composer Stephen Flaherty.
Stephen Flaherty
Sitting on stage in the Rauh Theater at the Pittsburgh Playhouse, Broadway composer and Dormont native Stephen Flaherty shared fond memories of the Playhouse during a workshop with theatre students in October.
"I saw my first professional show on the Rauh stage as a student at St. Bernard School in Mt. Lebanon," Flaherty said. "This was the first time I was exposed to the theater and to acting, and that's what inspired me to pursue my career."

Flaherty and his writing partner, Lynn Ahrens, are known for their Broadway musical compositions, including Rocky, Ragtime, Seussical and Once on This Island. Together, they won a Tony, Drama Desk and Outer Critics Circle Award, and were nominated for a Grammy, Academy and Golden Globe.

For many students in attendance, the opportunity to meet a renowned composer was the chance of a lifetime.
"Stephen Flaherty is one of the greatest composers of all time, so for us to see him in his hometown, in the same theater where he saw his first show - which also happens to be a home for Conservatory of Performing Arts students - was pretty surreal," said William Bureau, a freshman musical theatre major.
During the workshop, Flaherty highlighted key moments in his career, offered advice and critiqued three upperclassmen who performed a selection of his works.
"Singing in front of Stephen Flaherty was a dream," said Jasmine Overbaugh, a junior musical theatre major who sang 'Waiting for Life' from Once on This Island. "It was amazing to receive feedback from the man who composed what I was singing."
Hailie Hagedorn, a freshman musical theatre major, said the key message she took away from Flaherty's critiques is to treat every song like a scene.
"As a performer, I tend to worry more about the notes coming out of my mouth, rather than the story I'm telling to the audience," said Hagedorn. "There are many out there who can hit spectacular notes, but only few who can make the audience feel something."
Davion Heron, a freshman musical theatre major, described Flaherty's workshop as inspiring and informative.
"Mr. Flaherty encouraged us to always do our best and to take a chance," said Heron. "I will try to let life take its course and not be afraid of what lies ahead. Everything I learned at this workshop will only help me move forward in my career."
Photos by Victoria A. Mikula, junior mass communication major
More About: musical theatre, Conservatory of Performing Arts, guest artists, master class, theatre, Pittsburgh Playhouse, student workshop, acting