more news
Students' Short Films to Screen at National Festival
Tuesday, March 31, 2015
Three short films created by Point Park University's cinema arts alumni and a student will be screened at the National Film Festival for Talented Youth in Seattle, Wash., April 23-26. The festival has grown into the world's largest festival for emerging filmmakers, showcasing films by directors 24 years of age and younger.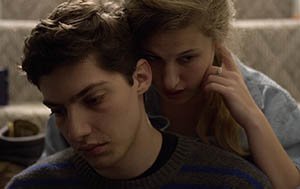 A scene from Pass Me By

The alumni and student include:
Jared Passante, B.A. in cinema arts, 2014, Pass Me By
Garrett Kennell, B.A. in cinema arts, 2014, Milkman
Dominique Carino, a senior cinema arts major, Diamonds in the Rough
Kennell's film, Milkman, was also named Best Student Film at the Los Angeles Independent Film Festival. In 2013, Passante's short film, A Matter of Time, was also screened at NFFTY.
This year's festival features 248 films from 30 states and 25 countries, with directors ranging from age 11 to 24. The 2015 festival received nearly 1,000 submissions from all over the world. Last year's festival was attended by more than 12,000 filmgoers.
Learn More
Point Park University's Department of Cinema Arts ranks as one of the best for professional film and media production, animation and visual effects and screenwriting, and equips students with the technical and aesthetic skills necessary to compete in today's media industries.