more news
Technical theatre students connect with companies, get jobs
Monday, May 2, 2011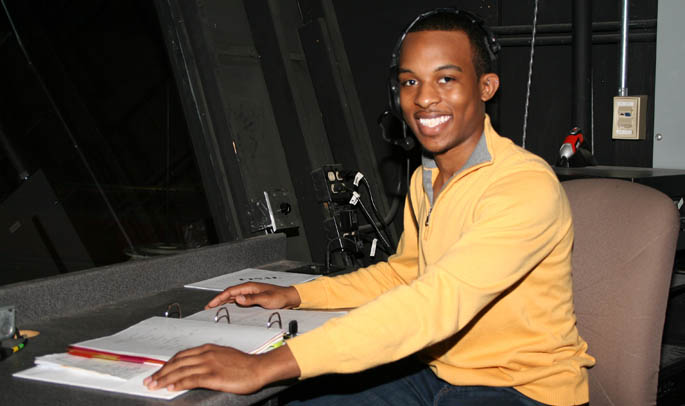 James Ogden II, a stage management student, at work in the Pittsburgh Playhouse.

Outcome of 2011
SETC job fair
Point Park technical theatre students received job/internship offers from the following companies:


Berkshire Theatre Festival
CenterStage
Central Piedmont Children's
Theatre
Eugene O'Neill Theatre Center
Florida Stage
Jacob's Pillow Dance Festival
New Harmony Theatre
Opera New Jersey
Porthouse Theatre
RWS and Associates
Entertainment
Shenandoah Summer Music Theatre
Stages St. Louis
Texas Musical Drama
Related Links
B.F.A. in Theatre Arts - Stage Management
B.F.A. in Theatre Arts - Technical Theatre/Design
Apply to the Conservatory
James Ogden II, a junior in Point Park's stage management program, is in high demand.
Ogden received five summer job offers after returning from the Southeastern Theatre Conference's annual convention and job fair - including one that came before he even attended the event.
This is the eighth year the University has sent technical theatre students to this conference, which offers one of the country's largest off-stage theatre job fairs. The Point Park students who go are selected through an interview process conducted by Kim Martin, head of stage management at Point Park and production manager at the Pittsburgh Playhouse; Stephanie Mayer-Staley, associate professor and head of design; and Aaron Bollinger, head of technical theatre. This year, eight students went to the convention, which was held in Atlanta.
"Going into the conference, I had wanted to meet companies that offered positions in my field and to hopefully make connections," Ogden said. "I did not go in expecting to get a job."
But Ogden's success did not come as a surprise to Martin.
"James is a young man you know is going places. He goes after what he wants with confidence," Martin said.
Months before the conference, Ogden researched the companies that would be there and applied to ones that interested him. Within weeks, he had a phone interview with Berkshire Theatre Festival and was offered a summer internship, which he declined because he didn't want to shut out any possibilities at SETC.
"James was the first stage manager - perhaps first student - we had who was extremely proactive in contacting companies he was interested in before going to SETC, so many companies were familiar with James before he got there," Martin said.
Ogden, who is from Newark, Del., accepted the offer to be stage manager for the summer season at Theatre West Virginia.
"Theatre West Virginia has been around for decades and is loved by the community and brings in tourists from around the world," said Ogden, who will graduate in 2012. "Stage managing a theatre of this magnitude so early in my career will be incredible for my resume."
Ogden said that although he has never done summer stage management work before, he has always been involved in theatre and worked on a huge variety of productions at Point Park.
"Our students are so well-rounded by the University that they seem to fare better than most at SETC," said Martin.
Five other Point Park students who went to SETC received at least one job offer, with many receiving multiple offers.
"I felt companies were impressed by the professionalism and preparedness of all the Point Park University students there," Ogden said.
Added Martin, "Our students tend to do very well finding summer employment within their field of interest, and the connections they make at SETC sometimes help them land jobs upon graduation. It's the gift that keeps giving."
Photo by Joel Brewton, senior photojournalism major

Watch James' video blog to learn more about the stage management program at Point Park.